Opal - October's Birthstone
Made to make your mouth water
Common but still posh - Mexican pink and Peruvian blue opal
Of all the treasures of our planet, precious opals are my personal favourite, because of their magical spellbinding iridescence.  Like a portable Northern Lights show, or a rainbow on your finger, I just find them bewitching.  The other thing I love about opals is that there's so many different types, and this fascinates me from a geological perspective.  From so called common opal with no play of colour but elegant shades of cream, pink and sea blue, through fire opal with its luminous incandescent orange, to precious opals with never-ending colour-play, each is unique and individual, just like people.  Choosing just one is hard!
First, though, as an honest mineralogist I must admit to you that opals are not minerals, strictly speaking.  This is because the rather chaotic internal structure that can cause its kaleidoscopic effect, also prohibits its membership of this classification.  So, opals are mineraloids, but since this group includes pearls, amber and jet, it's not the only gem in this class or anything to sniff at. 
Opal is a very fancy form of silica or silicon dioxide – one atom of silicon and two oxygen, both among the most common and abundant elements on Earth – the same as sand and quartz. But what is special about opal is that it's comprised of nano-spheres of silica. When the spheres are of uniform size and arranged in a three-dimensional layer, white light is diffracted through this grating and split into the colours of the spectrum. Precious opal has stacks of many different sizes of silica beads and therefore different sizes of gaps in the grate, which split the spectrum into flashes of colour.  Different wavelengths (ie colours) are able to pass through the gaps as a resulting colour to our eyes. The most valuable opals display all the spectral wavelengths from red through violet in harlequin patterns standing out well against a black body colour.  Common opal does not diffract light into flashes of spectral colours, because its spheres exhibit a range of sizes, are imperfectly shaped, are too large or too small, or are not well ordered enough.
OPAL CARE
Like all gems and jewellery, care must be taken to avoid knocking or scratching. Just like rainbows in the sky, opal also contains 3-10% water, sometimes as much as 30% but contrary to old wives' tales, they can't absorb water! Opals have the same hardness and porosity as glass so be respectful and wear them as if you are wearing pearls and they will do well for everyday. Keep them away from extreme fluctuations in heat eg a hot light or near a radiator and watch you're not storing them somewhere with very low humidity. Both these situations will cause the stone to either expand or contract, hence risk cracking. To clean them I like to wipe mine with a pad of clean damp cotton wool or a face flannel once a month or so, don't try to clean or polish them yourself with anything other than a soft clean cloth. Some Ethiopian gems have higher water content so will be more sensitive.
If you're sitting comfortably, allow me to share some personal and professional opal stories with you.
OPAL FORMATION
I love the very bizarre clash of geology and life that caused opal formation. Opal is the national gem of Australia, and around 80% of precious opal comes from here where studies show that, around 100 million years ago, The Great Artesian Basin, a vast fresh-water lake, dried out at the surface. Mats of algae moulds formed on top of the evaporating, decaying sludge of the bottom of the lake, thick with aerobic bacteria, and together the bacteria and algae produced high levels of carbonic acid. This reacted with the abundant silica in the clay and rocky sedimentary minerals underlying the lake along with the last vestiges of water to produce a concentrated silica gel.  It was trapped in the voids and cracks of the clays and weathered rocks, hardening into opal in a few months. I might try this myself at home in a jam jar with damp clay-sandy soil and carbonic acid.  Here's an image of a partial nodule of of clay with precious opal still embedded from my own rock collection. (Fun-fact, if you baked the opal for a few million years it would metamorphose into rock crystal.)
My bit of rough - a piece of black opal still trapped in its clay matrix from Lightening Ridge
Crystal opal - Colours in Black & White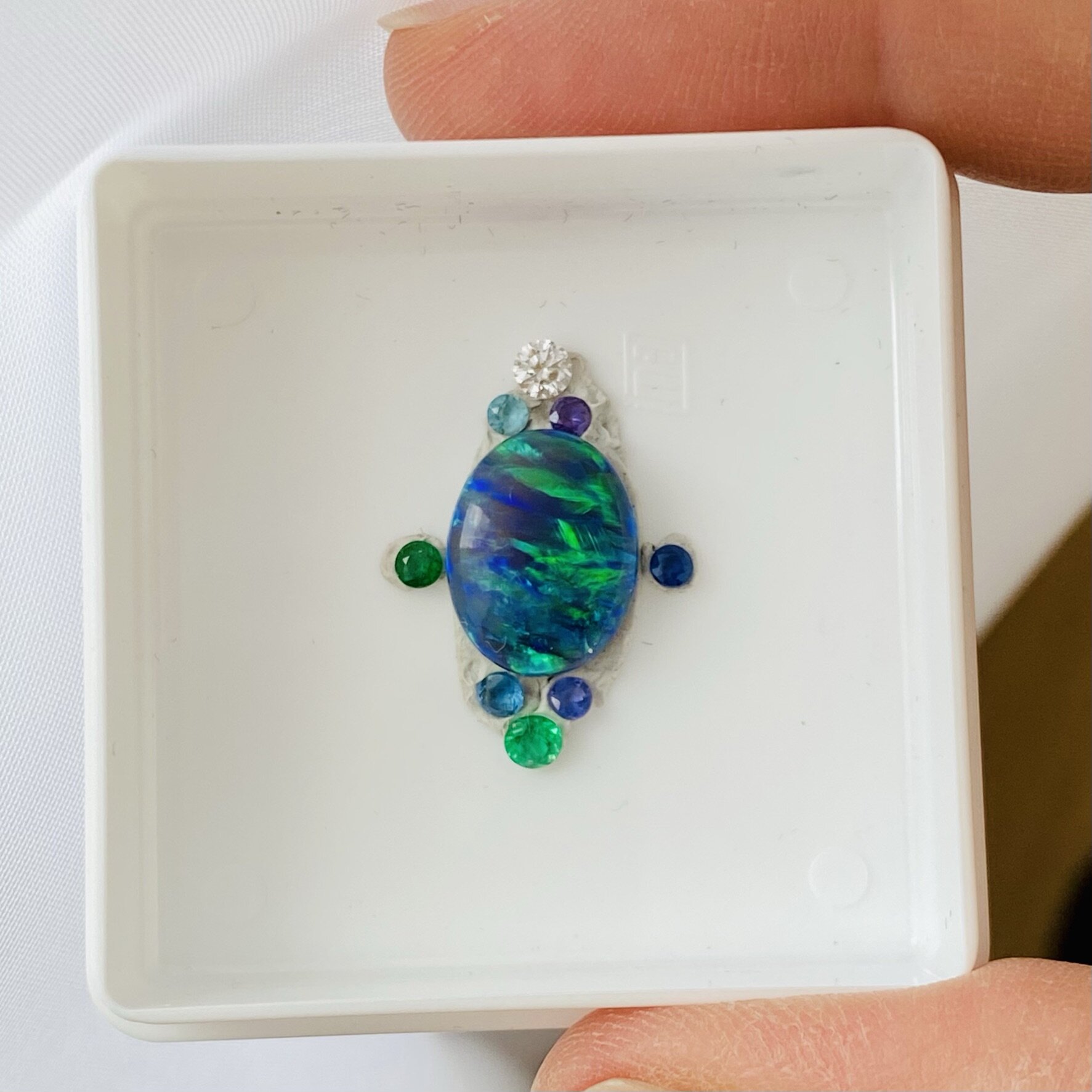 Nature's cosmic blues and greens
Crystal opal is any kind of diaphanous opal with colour play. Black opals simply means that the colours are held within a dark body colour, and white opals have colours within a white body colour. Coober Pedy is one of the most famous sources for white crystal opal. Dark body coloration is caused by carbon sulphides thanks to all the microbe activity during formation. Of all opals, the most valuable is a good black opal, found mainly in Australia's Lightening Ridge, like this very special engagement ring which I am designing for myself currently.  We selected this particular gem because it looks like planet Earth and "I want to give you the world", says my boyfriend.  I am matching the colours of the opal using different gems from all over the world – aquamarine, tanzanite, purple and teal sapphires, diamond and emerald.  It will be a truly one of a kind engagement ring.  All opals have the same toughness as glass, are impervious to water and oil, so with care and thoughtfulness can be worn every day, however this ring will convert to a pendant to be worn close to my heart when I am getting my hands dirty!
Boulder Opals & Yowah Nuts
Working notes, source pieces & final design for my client's boulder opal
This type of opal, where the gem is backed or encased in hard rocky ironstone, is boulder opal. It's unique to the Australian state of Queensland, with the most famous opal fields in Yowah and Winton further north. Here's a beautiful boulder opal which my client had owned for many years since buying it as a loose gem, a souvenir from a trip Down Under. Following its natural outline, I set it into an unsymmetrical pear shape pendant with some diamonds from her late mother's old rings. To make this piece even more special, the platinum mount was made from her wedding ring - as my client is a widow I felt it was particularly lovely that it will lie close to her heart.
"Chasing the rainbow" (finding precious opal among the rough rocks) has been a preoccupation of lapidaries for years and the popular Outback Opal Hunters series on Discovery Channel's makes for addictive viewing. In this example you can clearly see how a globule of silica gel has hardened into a nodule with a rocky outer shell called a Yowah Nut, named for their locality near the township of Yowah. On the left is a fine example found on one episode in March 2021 which is worth a life-changing USD 50,000. The centre image is a sliced Yowah Nut that I own myself, which I think looks like an opening into Heaven, but sadly nowhere near as valuable as the other images. The far right image shows the Yowah Nut in the US National Gem Collection, Smithsonian Institute, Washington DC, a gorgeous top example of this form of opal.
The Yowah Moon discovery
My own slice of Heaven
Smithsonian Yowah Nut
Crystal opal from Ethiopia
The one thing I wish I'd bought when I had the chance is this Ethiopian crystal opal – I saw it about 3 years ago at a trade show and haven't got it out of my mind since.  It was utterly magical and makes me think of the 'wonderous' gem the Arkenstone from The Hobbit.  If I ever see another one as good, I will just buy it on the spot…  Crystal opal is so named because the body matrix is crystal clear and transparent, rather than black, grey or white.  The silica beads simply iridise through all the stone.  It's a feature of the best Ethiopian opals and seen in less good effect in the small pair I am working with here which will form the ends of a lariat style necklace.   I will need to set them into a dark ground such as a blackened gold foil backing so they really shimmer. Ethiopia has proved an abundant market source for gem opals in the last few years, with activity in Wollo Zone (Welo), Amhara Region, an historically important region famous for its rock-hewn Christian chapels constructed around AD 1100-1200.
The 'Wonderous Arkenstone'?
Ethiopian, or Welo, opals

My Gothic flaming fire opal, a gift from my mother
Fire opal
Fire opals are the national gems of Mexico, where they are found.  The incandescent colour is stunning when iridescence is also present – this is the best combination and most valuable.  This ring is from my own personal collection, it was given to me by my mother who knew that I was totally captivated by it as a child – imagine 'fire' trapped inside a gem! -  it was one of the spurs to me embarking on my life in jewellery.  The ring was handmade for my mother in the 1970s by Hancocks of London who designed it in a deeply romantic Victorian Gothic style. It makes me feel like a Pre-Raphaelite heroine wearing it - or the mysterious sorceress-like grandmother, Lady Hermione, in Sir Walter Scott's wildly popular 1829 novel, 'Anne of Geierstein', who wore in her hair a golden clasp with an opal that "amid the changing lights peculiar to that gem, displayed internally a slight tinge of red like a spark of fire" flickering in response to her moods.
6 OPAL MYTHS & HISTORICAL FACTS
According to Australian Aborigine Dreamtime myths stretching back 65,000 years, opal was created when the colours of the first rainbow touched the earth.
In 1938, Dr Louis Leakey, the founding father of palaeoanthropology, discovered hundreds of opal beads and pendants amid 70 cremations in the Njoro River Cave in Kenya, dated to c1200 BCE. They are considered to have been mined locally and traded for other precious and valuable goods.
Roman writer Pliny the Elder describes in Book XXXVII of the Natural History, written cAD77-79, how to distinguish a natural opal from a simulant, valuable advice now as then.
Before Australian, South American and African opals were traded, historical European sources of precious opal were from central and eastern Europe and Turkey.
We get the name opal from C16th Latin 'opalus', from the old Eastern traders' name for gem: 'upala' a Sanskrit word meaning precious stone.
Poor opal had a bit of an image issue in the Victorian era, thanks to the phenomenal popularity of Scott's novels. Our Lady Hermione meets an untimely end - during her daughter's baptism, a few drops of holy water fall upon her opal, which "shot out a brilliant spark like a falling star, and became the instant afterwards lightless and colourless as a common pebble." Lady Hermione then collapses and disappears into a heap of ashes. Not a good way to go. The overactive imaginations of young Victorian ladies thereafter fancied that opals were unlucky.