British Crown Jewels & Coronation Regalia: the complete list
If you want to learn all the sparkling details of The British Crown Jewels described in just one place, then you'll LOVE this updated guide. 
I'm sharing 101 facts about The British Crown Jewels and Coronation Regalia in this complete list for you.  Previously, for many years I was a Director at Crown Jewellers, Garrard, where I led private guided talks of the Crown Jewels, and now I'm sharing all my expertise here in the only ultimate guide, just for you.
Click through the category links below to instantly search your favourite Crown Jewel and Coronation Regalia. No need to queue at the Tower of London, you can uncover all Britain's glittering Crown Jewels right here!
FAQs
Who owns the Crown Jewels? - The Monarch holds them in trust for the nation as part of The Royal Collection, but they are not really owned by any one person. The king or queen are not allowed to sell them, pawn them, or take them out of the country.
Where are the Crown Jewels kept? - They are kept in an armed, state-of-the-art vault in the Jewel House at the Tower of London, which you can visit. The old crowns or frames of crowns, which are not so valuable, are on display in the nearby Martin Tower, the original jewel house. The Honours of Scotland are also stored in an armed, state-of-the-art vault in Edinburgh Castle
How much are the Crown Jewels worth? - They are priceless because they are meaningful and sacred items, but if they were ever broken apart and put onto the market, anywhere from 1.6 - 3 GBP billion pounds in total.
Have the Crown Jewels ever been stolen? - Yes once, long ago when members of the public could solicit a private tour, the Keeper was beaten to the floor by cunning daredevil Colonel Thomas Blood in May 1671. Blood and his accomplices seized the State Crown, the Orb and the Sceptre with Cross, and tried to shoot their way out of the Tower, but were all captured and the Jewels restored, although the crown was flattened. Colonel Blood managed to even talk his way out of punishment by appealing in person to King Charles II, who outraged many by awarding him land and income in his home country of Ireland.
Are the Crown Jewels fake? - No - they're real. However, as was the custom in previous centuries, diamonds were hired for coronations, so a few of the old unworn crowns have had their original diamonds and gems replaced with replicas which you will read about below. The gems in the Crown Jewels were examined in an exhaustive inventory in 1980 by experts from the Gem-a (Gemmological Association of Great Britain), who were able to categorise their type and quality, read on for all the details.
What are the Honours of Scotland? - These are the Scottish Crown Jewels, held at Edinburgh Castle, comprising the oldest crown in Britain, a Sword and Sceptre, the ancient Stone of Destiny, as well as some secondary items of regalia - Charles II's coronation ring, the Lorne Jewels, the St Andrew Jewel, the Great George & Collar and a mysterious wand. The Honours were hidden twice and almost lost forever: once to keep them from falling into Cromwell's Commonwealth melting pot; and the second time, when they were locked away in a chest in the depths of Edinburgh Castle after the Union of Scotland and England in 1707, they were not rediscovered until August 1822, by Sir Walter Scott. You'll find them all described below.
CROWNS & CORONETS
How many crowns does The King or Queen have? The answer is they need at least two, one just for the sacred coronation ceremony, plus one to wear for State occasions such as the Opening of Parliament. The Queen Consort (the wife of a king, who is not a queen in her own right) also has a crown of her own. In total, there are nineteen crowns and frames in the British Crown Jewels. These 19 crowns date from 1660, when Charles II was restored to the monarch after Cromwell seized power and executed Charles I in 1649 to the present day. Each monarch and consort of the period ordered their own crown based on an original traditional design, but sometimes adding something of their individual tastes and styles of the time.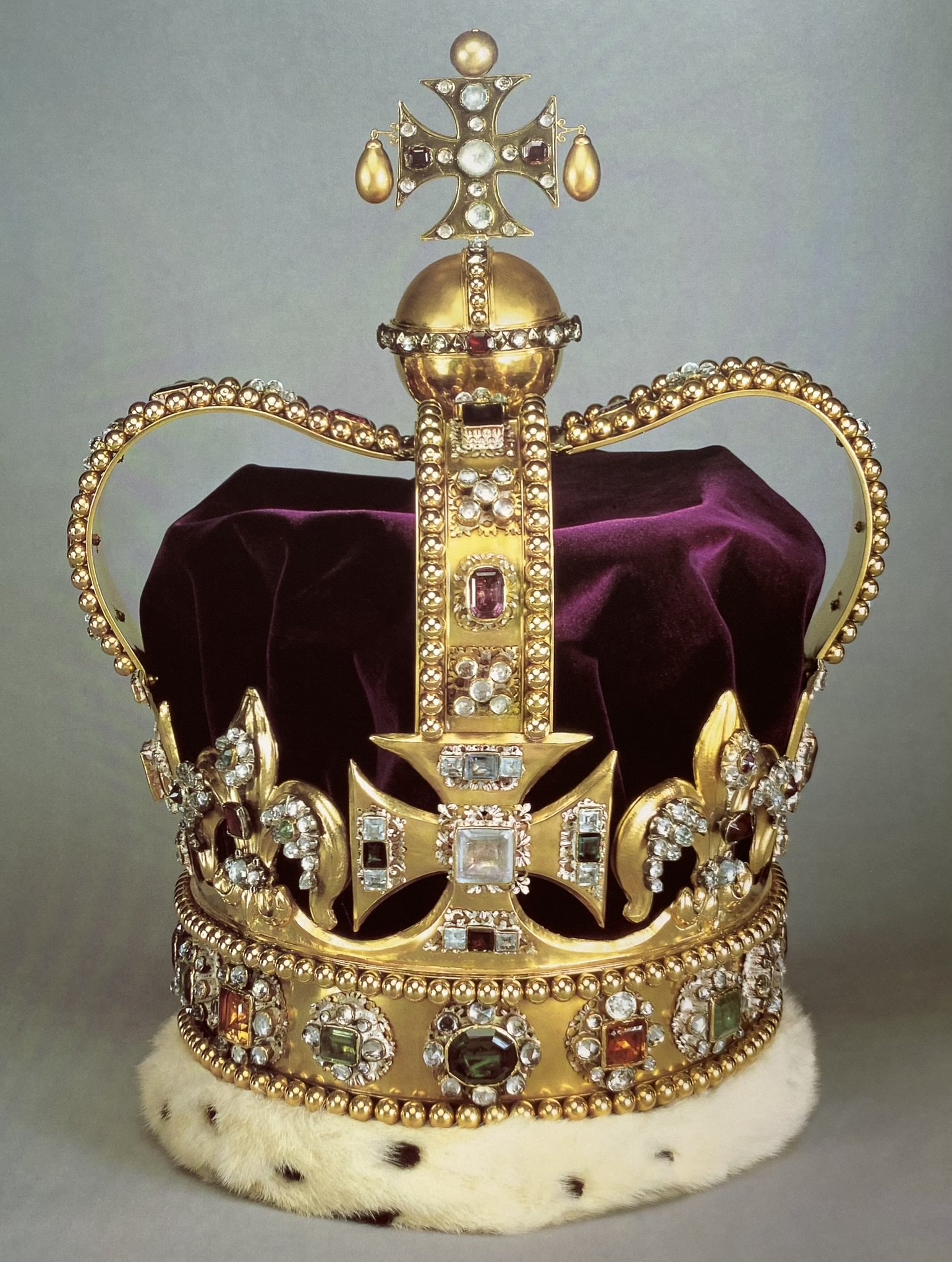 St Edward's Crown - the sacred crown used to crown a monarch
1.      St Edward's Crown – this is the sacred crown used to actually 'invest' (crown) a monarch, and never worn outside of the coronation ceremony.  Made in 1660 as a recreation of the ancient ceremonial English crown made for the saintly King Edward III, Edward the Confessor, which was melted down during Cromwell's Commonwealth period.  Made of solid gold, with removable gems including tourmalines, topaz, rubies, amethysts, sapphires, garnet, peridot, zircon, spinel and aquamarines, decorated with enamel. Its massive weight caused Edward VII to suffer migraines - it weighs 2.23kg. Height 302mm / 12 in.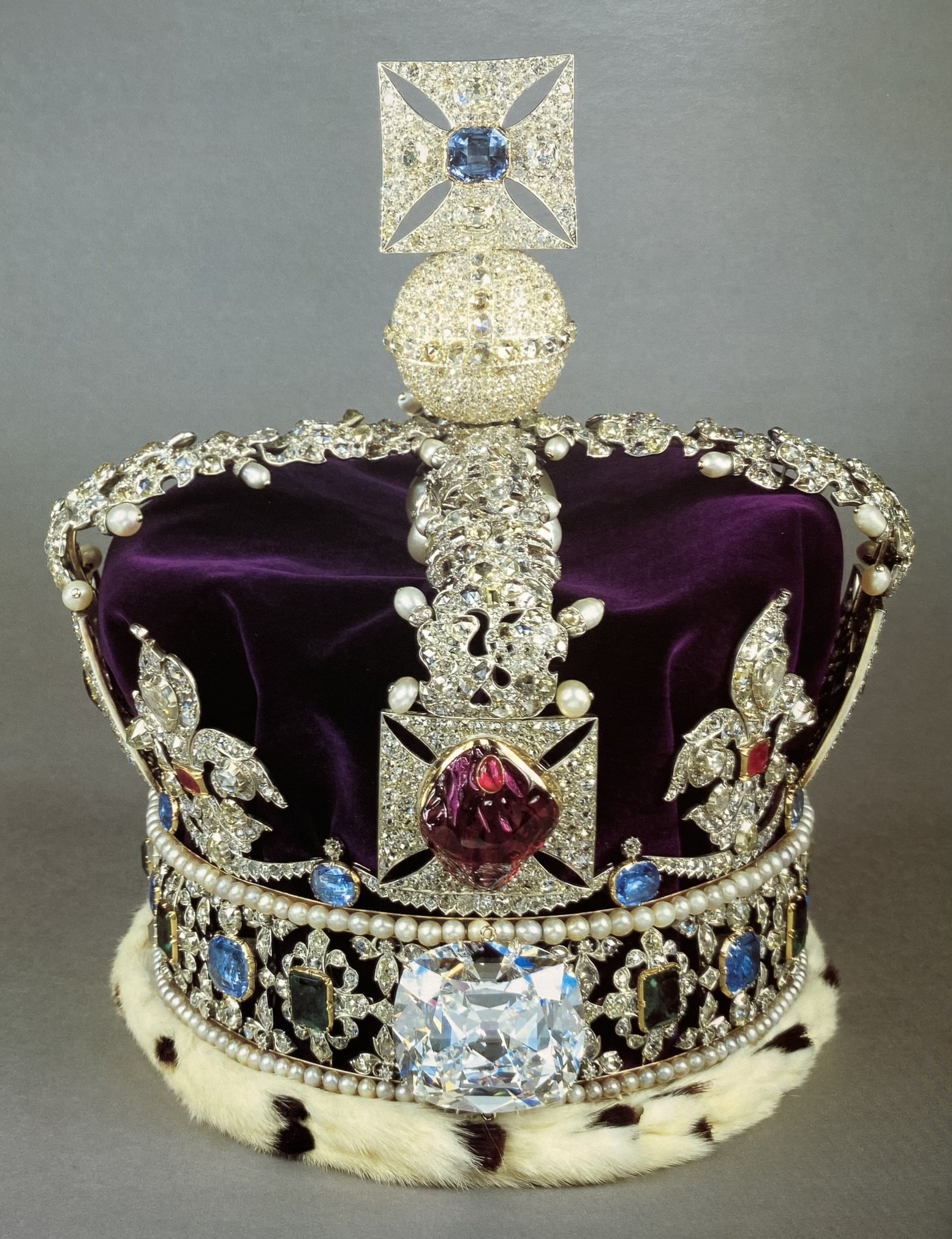 The Imperial State Crown
2.      The Imperial State Crown – every monarch need a splendid secular crown to wear at State occasions during the year, and this is the current version, now being remodelled for King Charles III.  Inscribed & dated for its original creation for Queen Victoria 1838, part remade by Garrard 1902 & 1932, entirely remade with a hammock fitting for George VI 1937, and remodelled and partly remounted for Queen Elizabeth 1953.  Set with 2,868 diamonds, 17 sapphires, 11 emeralds, 269 pearls as well as most of the important gems of the Crown Jewels: Cullinan II, The Black Prince's Ruby, the Stuart Sapphire and the ancient St Edward's Sapphire, see Gems.  Weight 1.006kg excluding ermine trimmed purple velvet cap and wire frame. Height 315mm / 12.4 in. Weight of all precious gems 2,500ct approx. calculated total carat weight.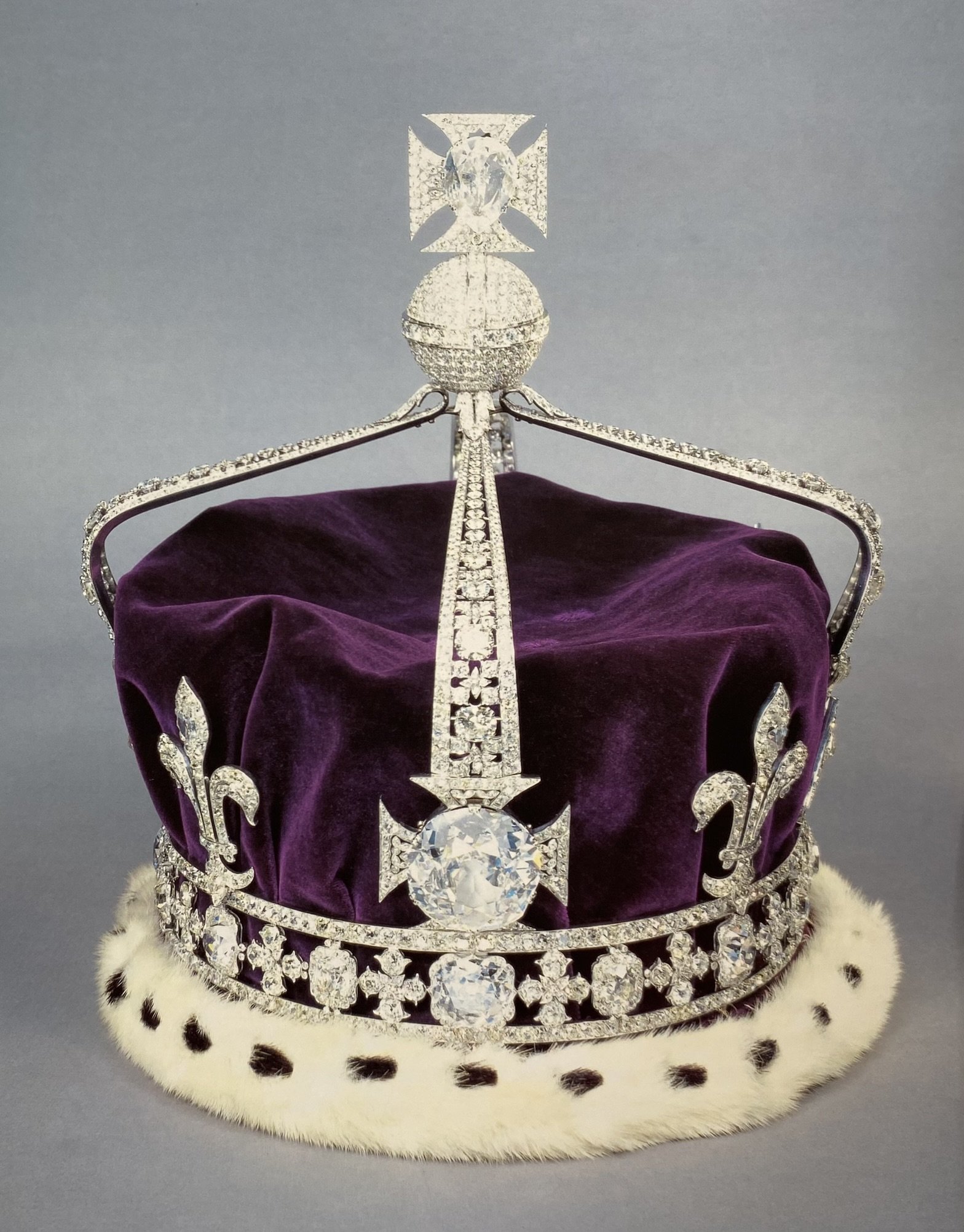 The Queen Consort's Crown
3.      The Queen Consort's Crown - an elegant design made for Queen Elizabeth The Queen Mother in 1937 – set with the magnificent, legendary Koh-i-Noor diamond (see Gems) amid 2,800 other diamonds, including a cushion 17.34ct (a gift to Queen Victoria from the Sultan of Turkey 1856) and a replica diamond pear shape in the cross pattee above the monde (this is a quartz replica of the pendant diamond that is currently set into Queen Victoria's diamond collet necklace 1858, in the Royal jewellery collection).  Garrard, 1937, platinum. 207mm high. Weight 0.51kg.  
4.      The Scottish Crown - the centre piece of The Honours of Scotland, as the Crown Jewels of Scotland are known. This crown was made for James V to wear at the coronation of his second Queen, Marie of Guise, in 1540 out of an older crown which was dismantled and melted. Its first use for a coronation was to crown the baby Mary Queen of Scots in 1543. It is of Scottish gold, set with 42 precious gems and freshwater Scottish river pearls.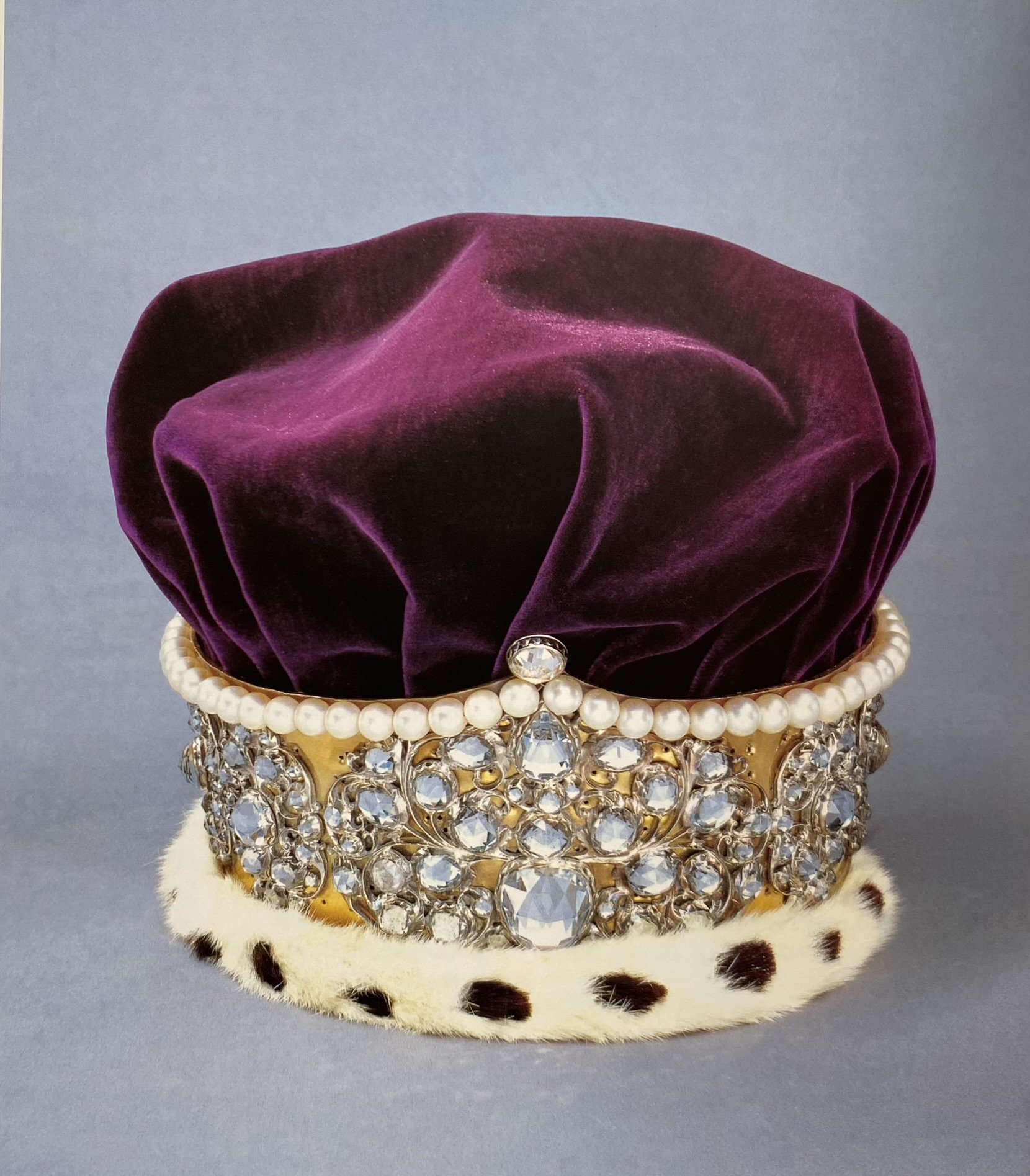 Mary of Modena's Diadem
5.      Mary of Modena's Diadem – created to wear at her coronation as consort of James II. Originally set with 177 diamonds, 1 ruby, 1 emerald, 1 sapphire – all hired for the occasion - and made of gold, now set with quartz, unmarked maker, dated 1685, 80mm / 3.1 in, 0.46kg. Much repaired over time, Garrard added 85 x 7mm cultured pearls in 1939 to replace the older discoloured imitation ones.
6.      Mary of Modena's Crown of State – the crown created for the consort of James II was originally set with diamonds on loan from bankers & jewellers, and replaced by quartz replicas. Pearls are set along the arches, and at the 3 tips of cross pattee. Makers mark of Richard de Beauvoir, 1685, gold, set with quartz & cultured pearls. 190mm / 7 ½ in, 0.715 kg.
7.      Mary of Modena's Coronation Crown – kept in the Museum of London, this crown was created for the coronation ceremony in 1685 of part gilded brass & part gold. It is smaller than Mary of Modena's Crown of State with lower arches, which are detachable. It is set with pastes, to a velvet cap and no ermine.
Metal casting of George IV's Imperial State Crown
8.      George IV's Imperial State Crown – a splendid crown made by Rundells using hired diamonds in 1820 for George IV who tried desperately to maintain it but was refused the money to buy it by Government. Now, only the original frame and this gilded casting of the crown before it was unset and dismantled in 1823 exists. The high arched heavy crown weighed a hefty 3kg. The old frame was reset again for William IV who endured its uncomfortable weight for economic reasons, before it was unset and left unused again.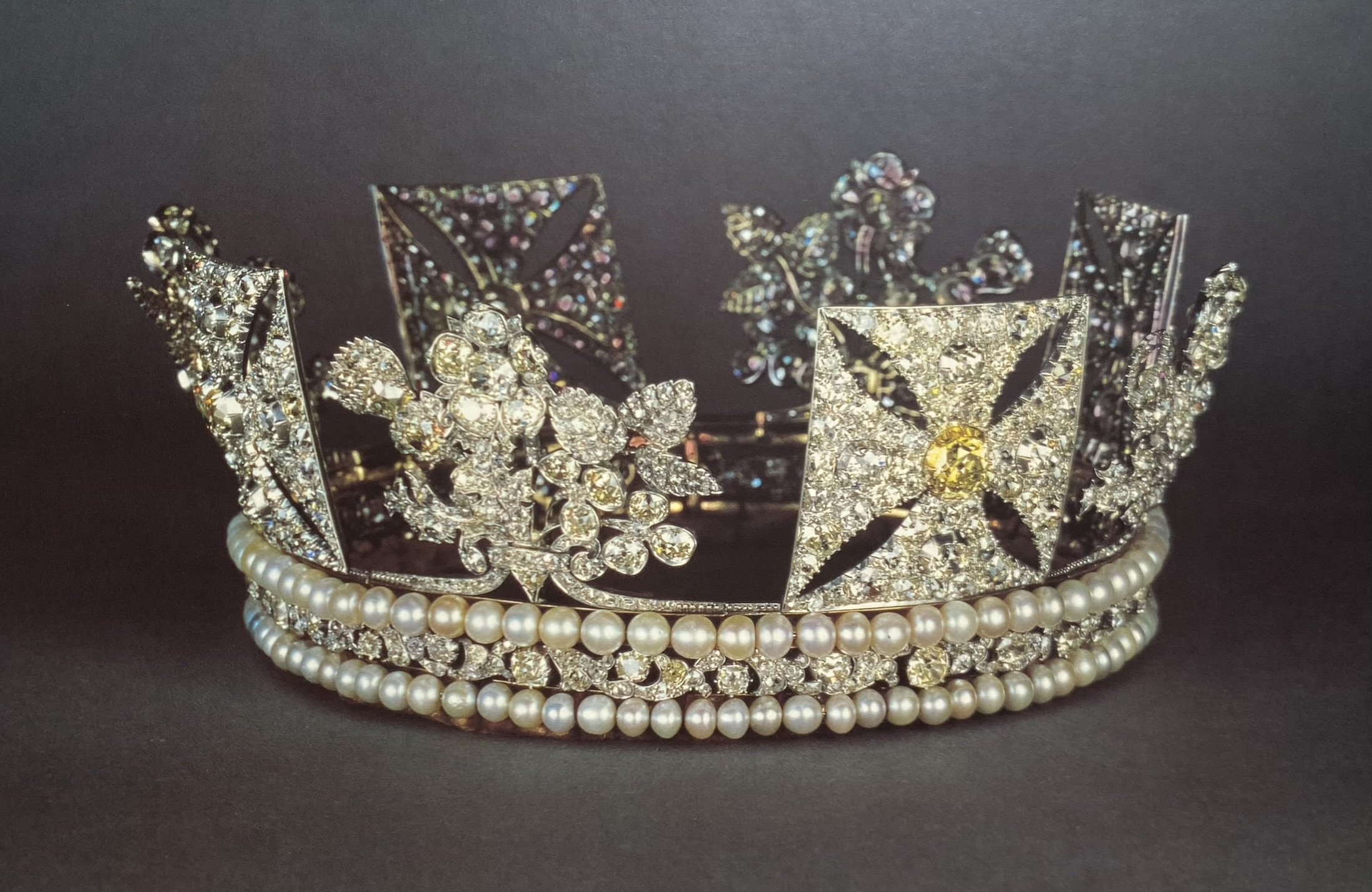 George IV's Diadem
9.      George IV's Diadem, called The Diamond Diadem – this famous circlet is seen on British stamps and bank notes in the official portrait of Queen Elizabeth for 70 years. Featuring the national emblems of the UK's three kingdoms - England's rose, Scotland's thistle, Northern Ireland's shamrock. The circlet is set with 1,333 diamonds and a 4ct yellow diamond in centre of cross pattee, 169 x 2 rows of 6mm natural pearls, which due to their type and colour could be Scottish river pearls. Rundells 1820, reworked by Garrard 1902 . 68mm high, 2.7in; wide 68mm / 7.9in, technically not a Crown Jewel, but part of the Royal Collection.
10.   Replica of the permanent crown created for Queen Victoria by Rundell Bridge & Rundell in 1838, which was used by her son Edward VII, grandson George V and great grandson Edward VIII. It was excruciatingly heavy to wear, and reworkings to lighten it made it fragile and frequently require repairs; whilst displayed on George V's coffin in procession from Kings Cross to Westminster 23 Jan 1936, the top cross fell off and bounced down the street. It was finally broken up in 1937, the frame is part of the Royal Collection & this replica made for George VI.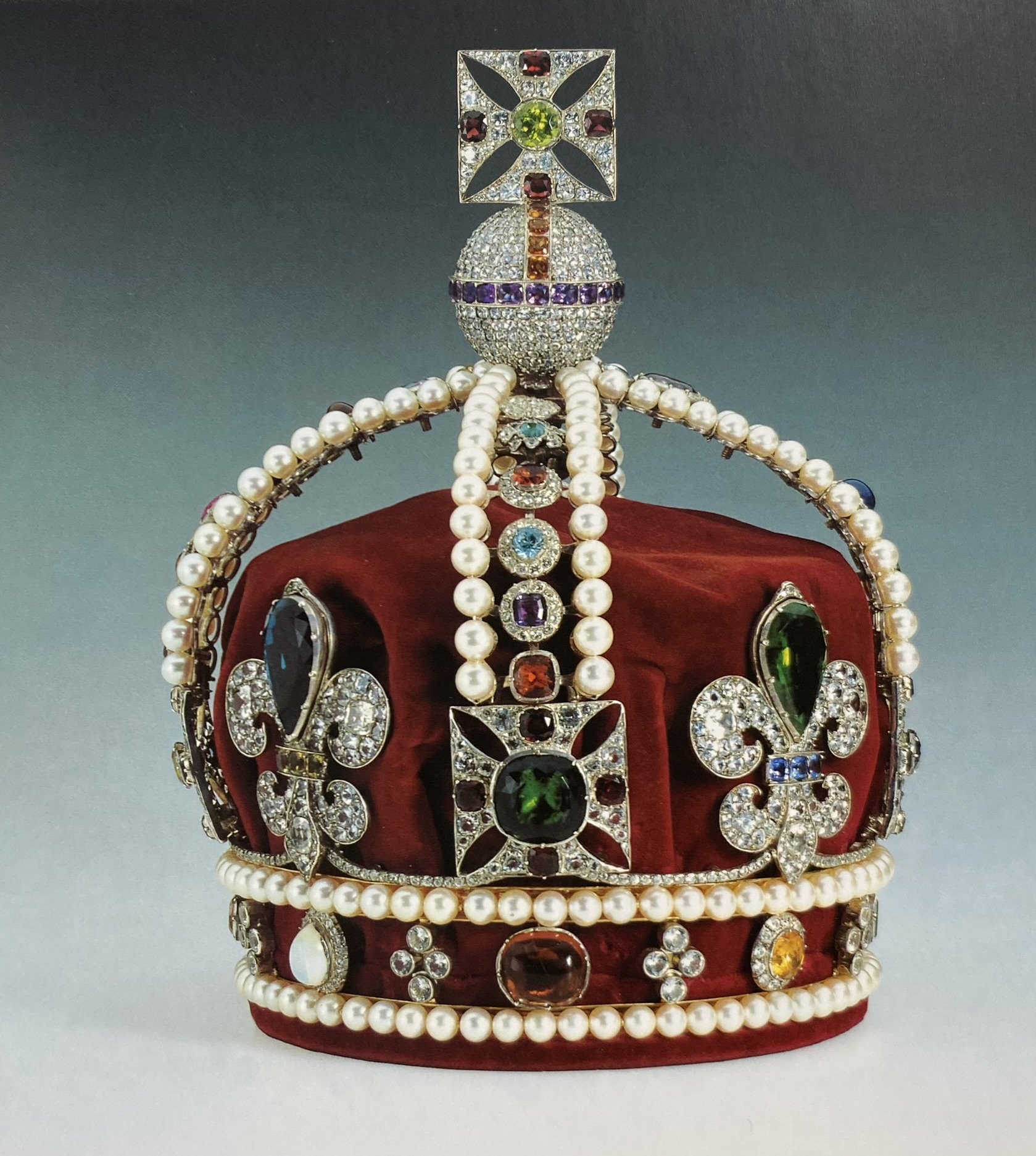 Queen Adelaide's Crown - a replica set with pastes
11.   Queen Adelaide's replica crown – made to her own design in 1831, this beautiful little crown, with its red velvet cap with ermine removed, was made using gems from her family, which were later unset. This is a replica set with pastes, displayed along with the original frame in the Jewel House. Made by Rundell.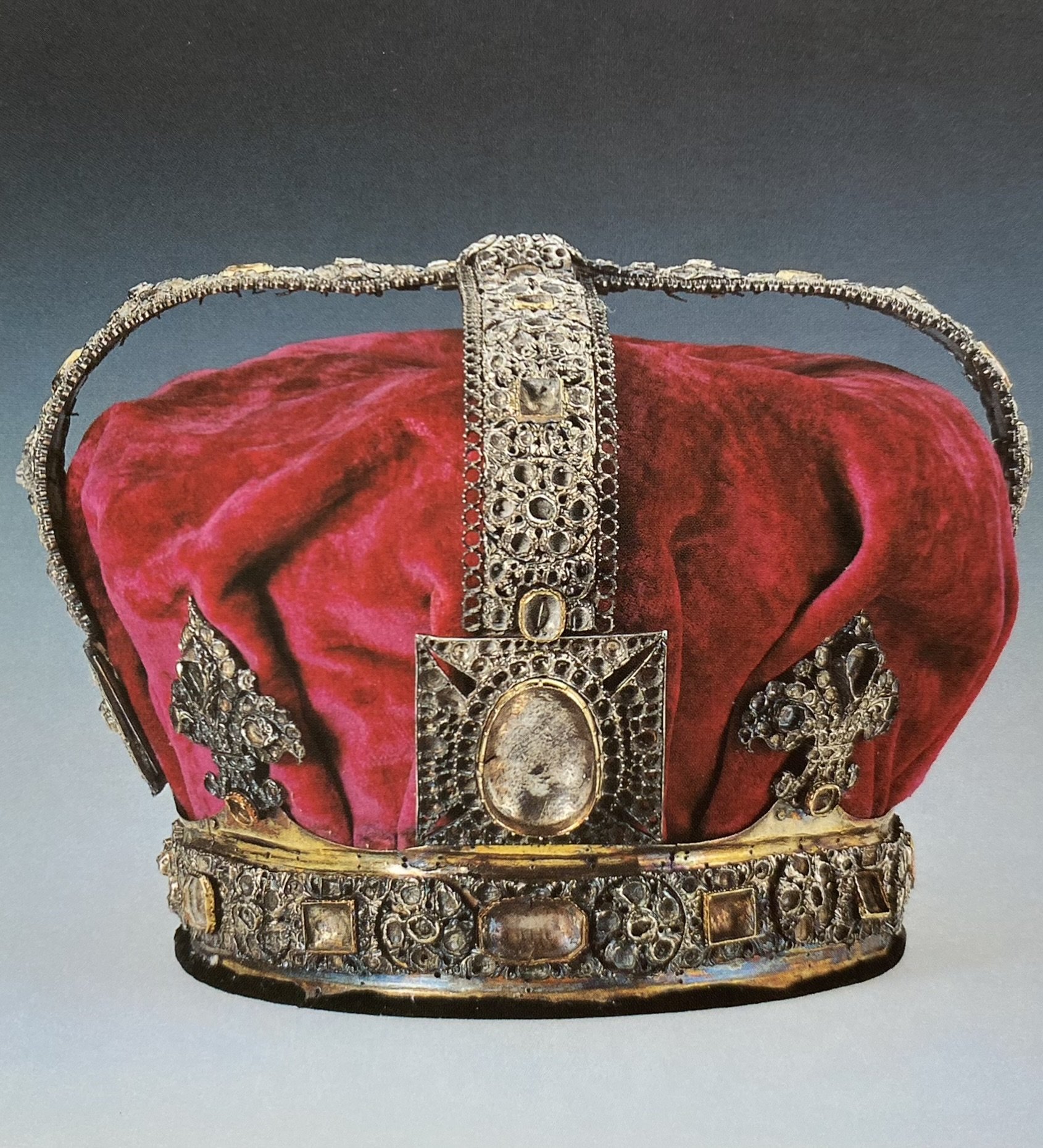 George I's State Crown
12.   George I's State Crown – 1715, made in a rush by Samuel Smithin, only the frame minus the monde and cross pattee survives, with its red velvet cap, displayed in the Martin Tower 220mm high.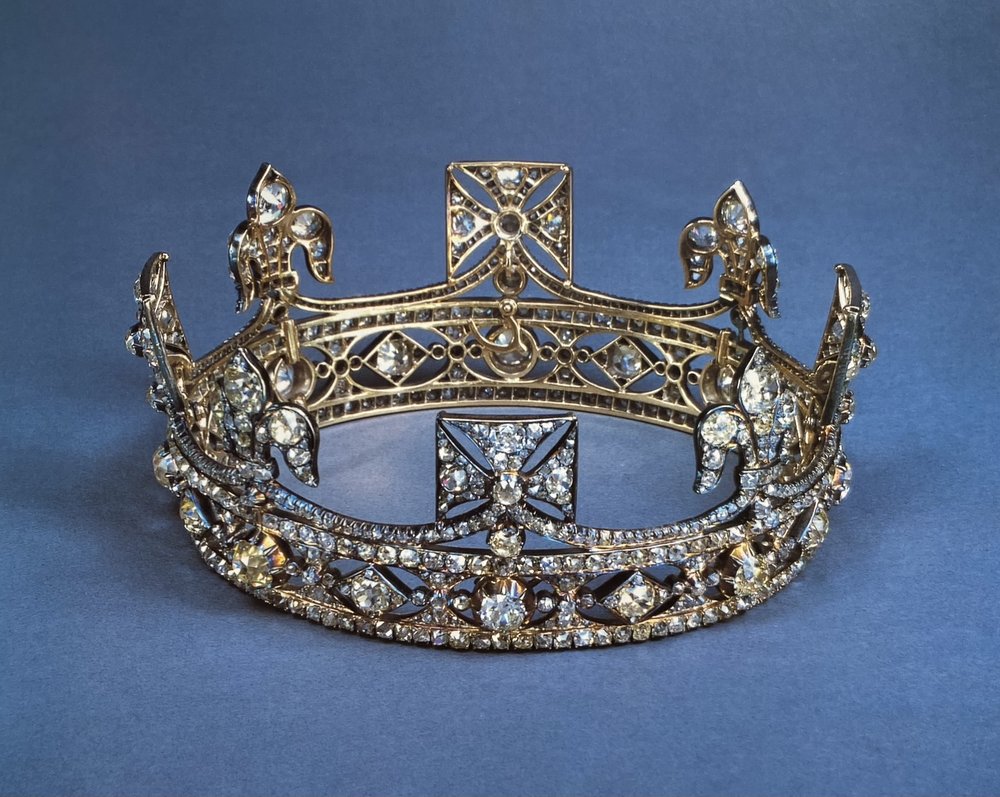 The tiny crown with arches removed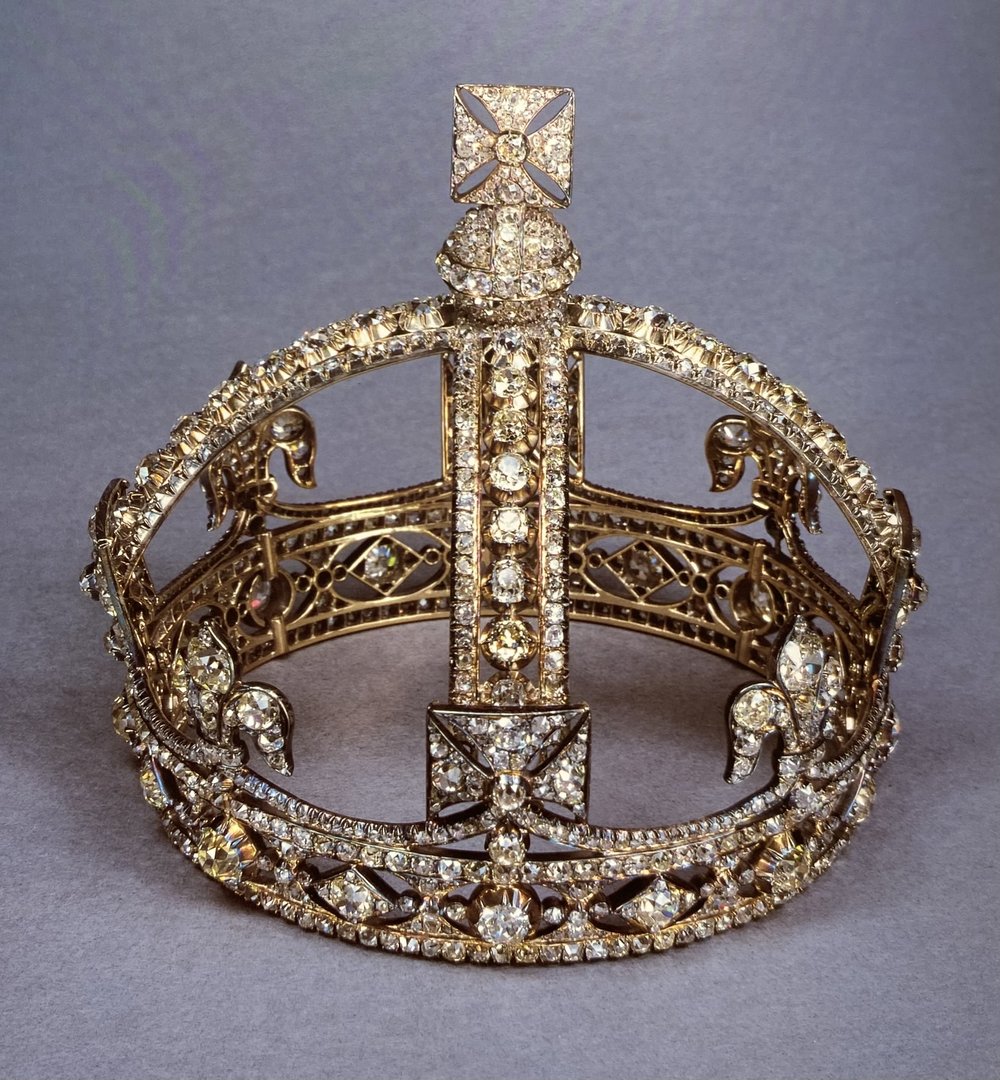 Queen Victoria's small crown
13.   Queen Victoria's Small Diamond Crown – iconic tiny crown which the aging and melancholy widowed Queen Victoria ordered from Garrard in 1870, is only 90mm / 3.4 in diameter,  94mm high/ 3.7in, 0.159kg.  Made out of 1,187 diamonds recycled from a fringe necklace which she owned. The arches can be removed to form a dainty circlet. The design is loosely based on Queen Charlotte's tiny Nuptial Crown of 1761.
14.   The Crown of Frederick, Prince of Wales – made in 1728. Unlike a monarch's crown with its two over arches, the crown for a Prince of Wales has a single arch above a circlet of crosses and fleur de lis, and the arch is adorned by a monde and cross. It has a purple velvet cap & ermine, unmarked,1728, 203mm / 8in. 0.93kg.
15.   The Prince of Wales's Crown - 1901-1902 of the prescribed single arch with monde and cross, the band with crosses & fleur de lis, red velvet cap with ermine, Garrard, 228mm / 9 in high, 0.35kg.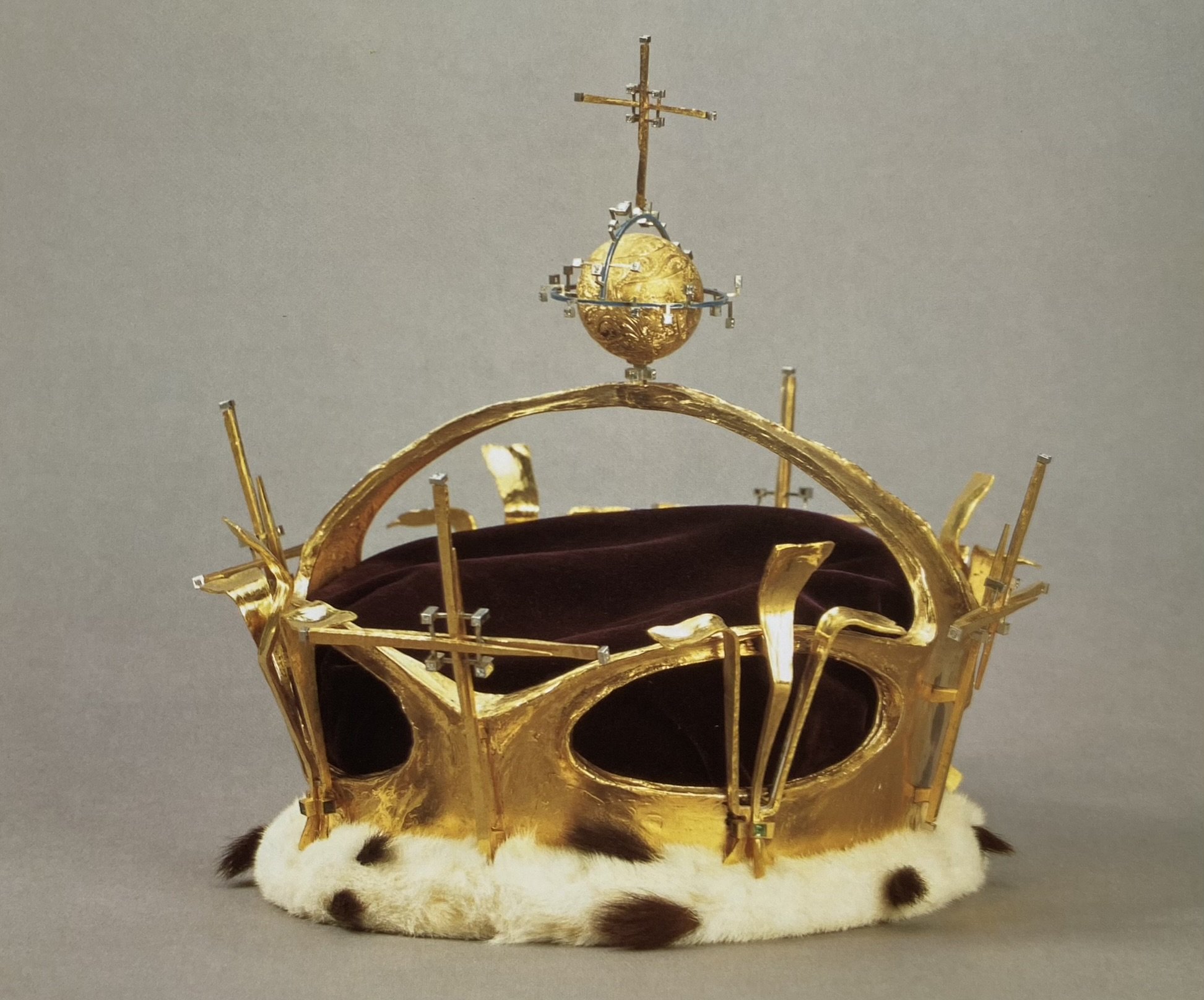 Crown of Charles, Prince of Wales 1969
16.   The Prince of Wales's Crown – given by The Worshipful Company of Goldsmiths, is a modernist design of stylised fleur de lis & crosses with platinum details around the single arch, designed 1969 by Louis Osman, electrotyped in Welsh gold, with platinum details. Malcolm Appleby engraved the monde, it is currently on loan to the National Museum of Wales.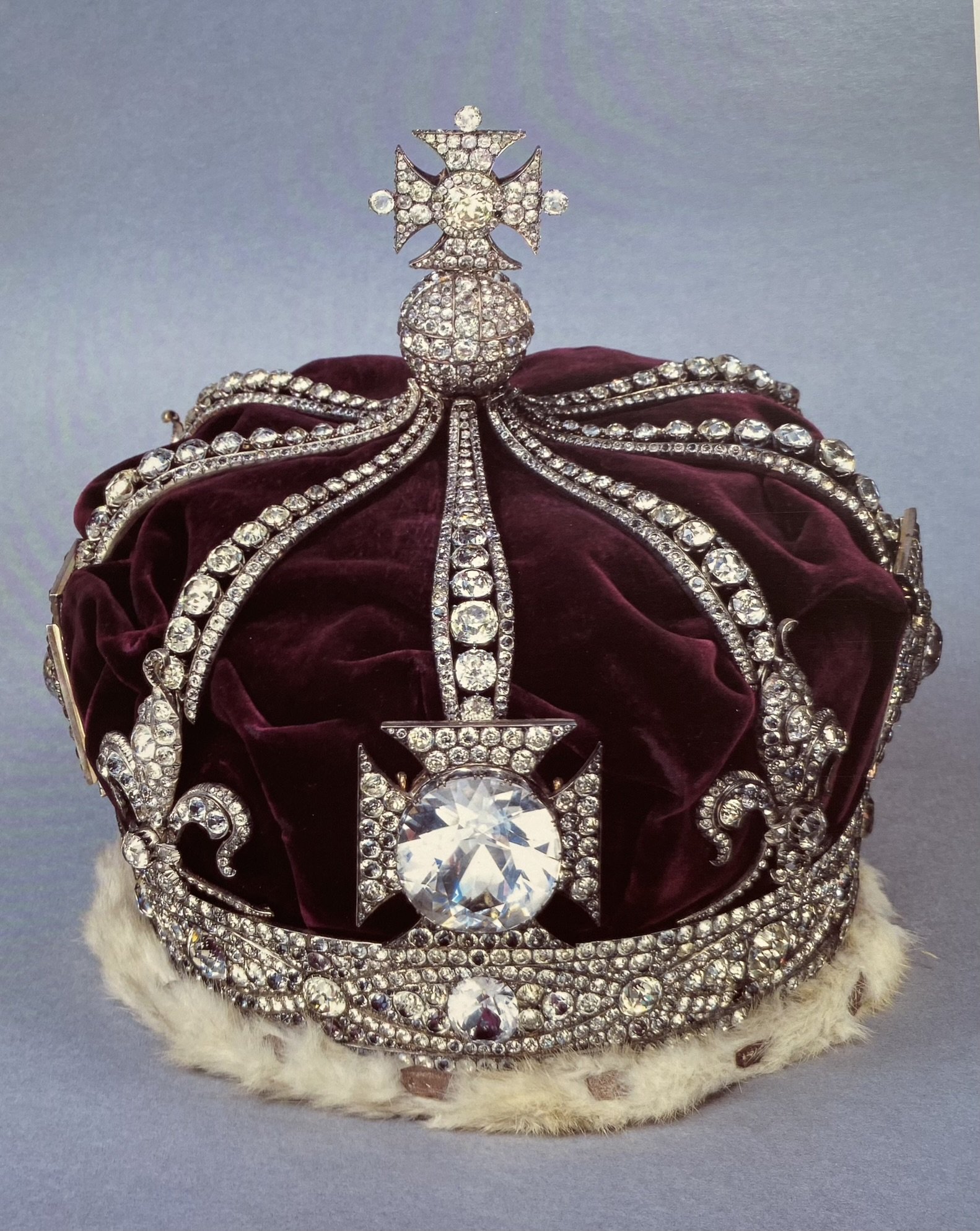 Queen Consort Crown of Queen Alexandra set with pastes
17.   Queen Alexandra's Crown – the Queen's Consort crown with 4 over arches in the Continental style to denote a British Empress, is now set with pastes in the silver settings with gold backs, but originally was set with 3,668 diamonds from the queen's own jewels, bolstered by others loaned by Carrington, and featuring the Koh-i-noor set at the front. On display at the Museum of London. Carrington & Co 1902. Weighs less than 650gm / 23 oz.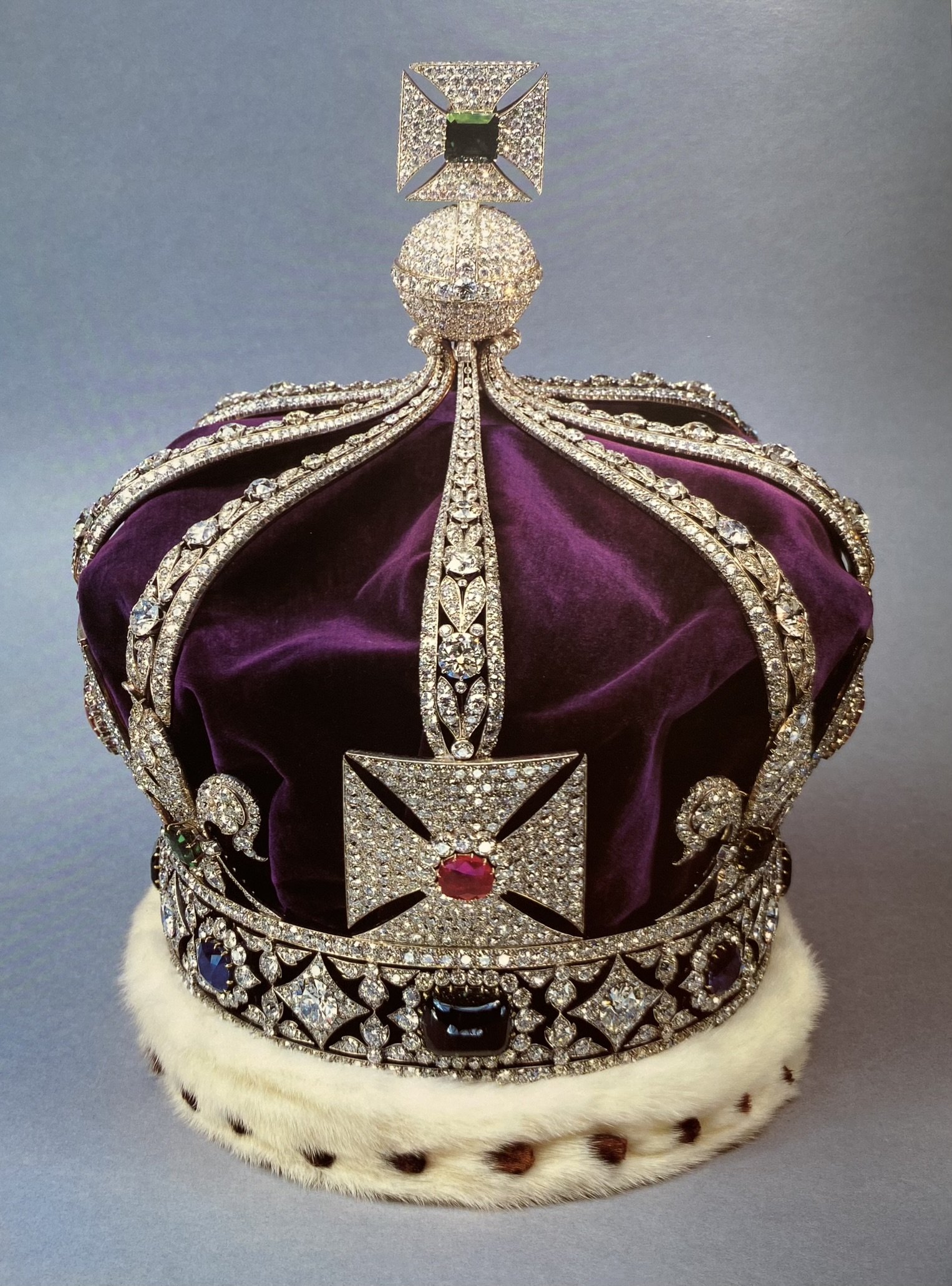 The Imperial Crown of India
18.   The Imperial Crown of India – George V needed a royal crown he could legally take out of Britain to be recognised as Emperor King of India, so this was made for the Delhi Durbar of 1911.  Featuring the 4 over arches of a British Emperor inspired by Continental crowns, silver settings with gold backs, set with 6,000 diamonds, 22 emeralds, 4 rubies, 4 sapphires, made by Garrard 1910. 275mm / 10.8 in high, weight 1.07kg.
Queen Mary's Crown with diamonds & quartz replicas of Cullinan III & IV.
19.   Queen Mary's Crown – featuring the 4 over arches of a British Empress, which detach to make a circlet. Silver settings, gold backs approx. 2,200 diamonds band set with a quartz replica of Cullinan IV, plus a cushion diamond of 63.6ct, cross pattee set with quartz replica of Cullinan III. Garrard, 1911, 250mm / 11.25 in. 0.71kg.
FAMOUS GEMS
Cullinan II (left), with Cullinan I (right) the largest top quality gem diamond in the world, with a 1ct 6mm diamond for comparison
1.      Cullinan I – The Great (or First) Star of Africa, the largest top colour and clarity diamond in the world. Examined by the Gemmological Association of Great Britain, stated that it is Type IIa. Colour grade appears to be D (uncertain D-E grade due to setting) VVS clarity. Measures 58.9 x 45.4 x 27.7mm, weighs 530.20ct.  Cullinan rough 3,106 ct discovered in 1905 at the Premier Mine, offered as a state gift to King Edward VII from the newly independent Transvaal Government. When cut, the rough yielded 9 large stones, 96 smaller brilliants and some small fragments. Cullinan III drop shape & Cullinan IV cushion shape, aka 'Granny's Chips' are both set into a large brooch; Cullinan V heart-shaped in a Belle Epoque style brooch, Cullinan VI was bought as gift for Queen Alexandra by King Edward.
2.      Cullinan II – The Second Star of Africa, cushion cut diamond weighs 317.40ct. It is set at the front of the Imperial State Crown, in the middle of the band, directly below the Black Prince's Ruby. Its setting can be removed, as can Cullinan I in the Sovereign's Sceptre, so that they can together form an enormous brooch, with Cullinan II set above the drop shape Cullinan I. Queen Mary once wore the diamonds in this way to spectacular effect. Graded by the Gem-a (Gemmological Association of Great Britain) as D Internally Flawless. Measures 54.4 x 40.8 x 24.2mm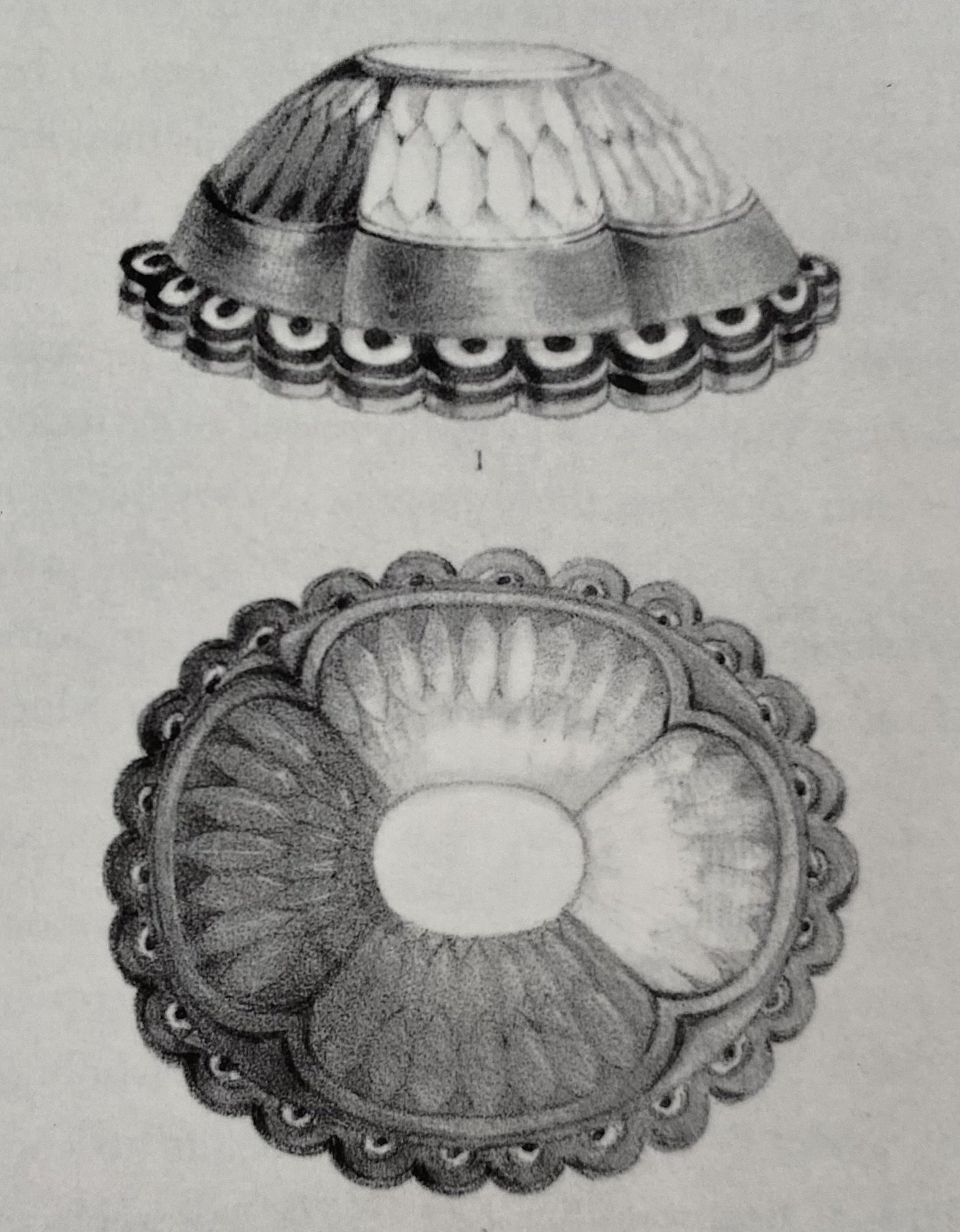 The legendary Indian-cut diamond Koh-i-Noor, as it was originally cut
3.      The Koh-i-noor – means Mountain of Light. It's one of the world's great legendary gems, considered by Queen Victoria 'badly cut' and thus re-cut to European style in 1852, Examined by the Gem-a (Gemmological Association of Great Britain) stated to be a Type II diamond. Clarity SI2-P. Colour not recorded. It weighs 105.602ct, measures 36x 31.9 x 13.04mm. When presented to Queen Victoria after the Treaty of Lahore, it was set with two other Indian-cut diamonds, which were recut at the same time, all three originally in a gold Indian armlet on display at the Tower of London, now set with paste replicas with enamelled back, red silk ties made in 1839-43, 129mm / 5.1 in, 0.14kg. The Koh-i-Noor is supposed to be cursed and unlucky for men to wear, hence its place in the Queen Consort's crown, learn more in my blog, The Koh-i-Noor: Curse or Blessing.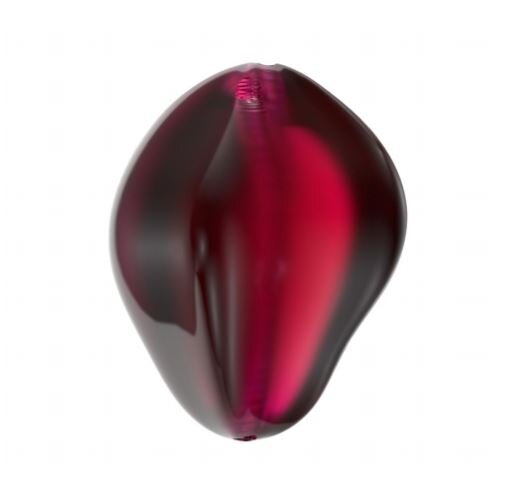 The Black Prince's Ruby, unset
4.   Black Prince's Ruby – set into a cross pattee at the front of the Imperial State Crown, just above Cullinan II, is a huge, famous stone, but it's not actually a ruby, but a red spinel, which were called 'balas rubies' in the Middle Ages, named for Badakhshan in Afghanistan.  This very ancient gem, so-called after its alleged owner The Black Prince, has many romantic stories attached to it.  Ovate cabochon, pierced, with a small natural ruby plugging the hole at one end. 43.3 x 33.8mm x 21.1mm, approx. weight 170ct.
5.   St Edward's Sapphire – set into the cross pattee above the monde on the Imperial State crown, this ancient octagonal sapphire dates to around 1100, and legend links it to a romantic story involving the miraculous St Edward. It measures 16.1 x 15.3 x 12.4mm, weighs approx. 30.5ct
6.   The Stuart Sapphire – set at the back of the Imperial State Crown, opposite the Black Prince's Ruby, a beautiful cornflower blue cushion shape sapphire, which was part of the property of the Stuart King James VI, measuring 49 x 28mm, weighs approx. 104ct.
ORBS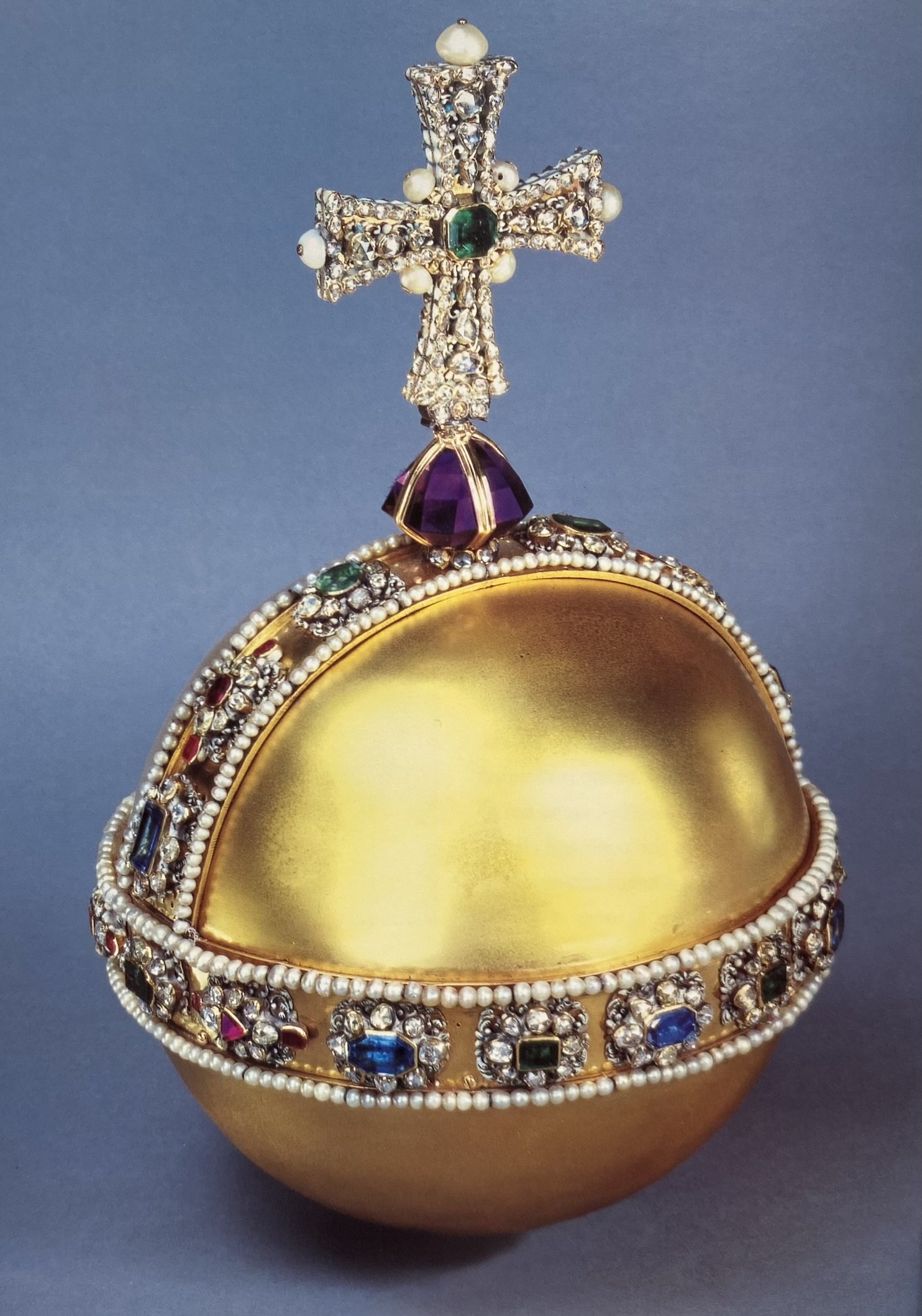 The Sovereign's Orb
The orb is a key item in the Crown Jewels and is a central part of the coronation ceremony. It is a jewelled golden ball with a cross on top symbolising that only Christ rules over the world, above that of any human power, and this sacred dutiful power is literally placed into the ruler's right hand just before the actual crowning during a coronation. First appearing in Roman depictions of Jupiter who as the King of the Gods held an orb (minus the later Christian cross!) representing dominion over the whole world, this symbol of absolute power tempered by Christ was adopted by ancient Byzantine emperors and early Medieval European kings.
1.      The Sovereign's Orb – one of the oldest items in the Crown Jewels, dating to Charles II's coronation of1661, it is hollow and made of gold and decorated with enamel. The monde below the cross is a facetted amethyst, there are 365 diamonds, all rose cut, plus 9 emeralds, 9 sapphires, (one of each of which is set back to back in the cross pattee) 18 rubies, plus 266 cultured pearls supplied Garrard in 1930. Height 27.3mm 10.7in, weight 1.32kg.
2.      Queen Mary II's Orb – created for the co-ruler of Britain, along with William III, in1689, made of hollow gold with enamel, quartz, plus imitation & synthetic stones and 220 cultured pearls supplied by Garrard in 1939 to replace discoloured original imitation pearls, and some doublets, in 1966. Diameter 146mm / 5.7 in. 206mm high.
3.      James II's Monde – this ornament was presumably made for James II to sit at the top of Charles II's State Crown. It's a large blue-green coloured glass with a silver & gold enamel base the same colour, inset with quartz gems, unmarked c. 1661-1685, restored in 1820. Height 85mm / 3 3/8in. 
SCEPTRES
Like the orb, this is another symbol of the sacred spiritual role of a sovereign, and is placed into the sovereign's left hand just before the actual crowning during the coronation ceremony. Rods and batons of power have been held by rulers since ancient times, and are symbols of justice.
Sovereign's Sceptre with Cross and Cullinan I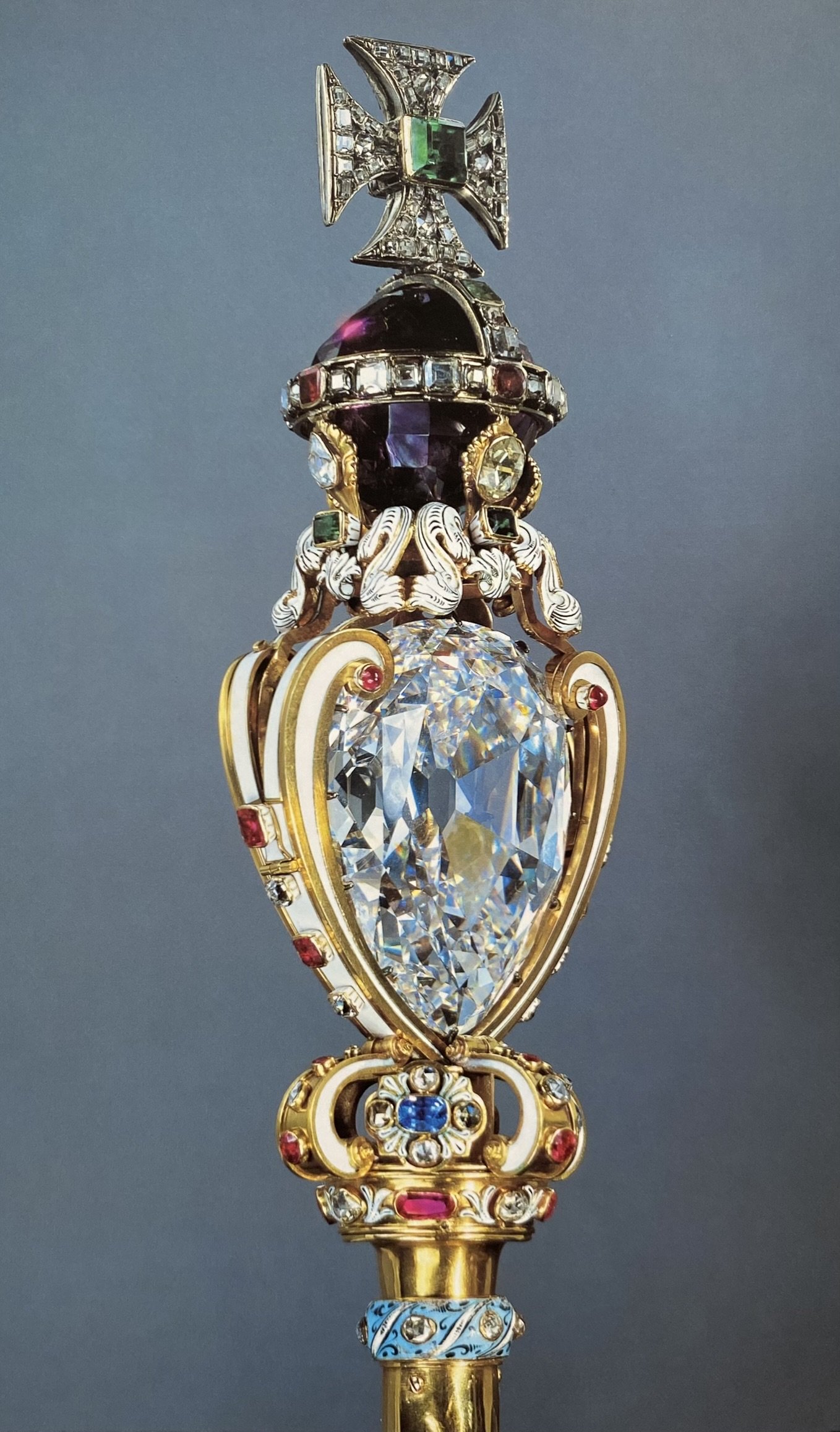 Cullinan I set into the top of the Sovereign's Sceptre
1.      Sovereign's Sceptre with Cross – Cullinan I, aka the Great Star of Africa, see Gems. Made of gold and enamel in 1661 for Charles II, it was last adapted for Cullinan to be set into the head in 1910 by Garrard. A pair of 2 facetted amethysts form the monde with the cross pattee set with an emerald at the front and a diamond at the back, it is decorated with 333 diamonds, 15 emeralds & 31 rubies, 7 sapphires, 6 spinels. Length 9270mm / 36.5in. Weight 1.16kg
2.      Sovereign's Sceptre with Dove – the dove emblem of the Christian Holy Ghost, 'the rod of Equity and Mercy' gold and black & white enamel, set with 53 rubies, 215 diamonds, 10 emeralds, 4 sapphires, 3 spinels, made in 1661 with later additions. Length 1105mm / 43.5in, weight 1.15kg.
3.      Queen Consort's Sceptre with Cross – made in 1685 of gold and set with quartz, length 853mm / 33.6 in. Weight 0.72kg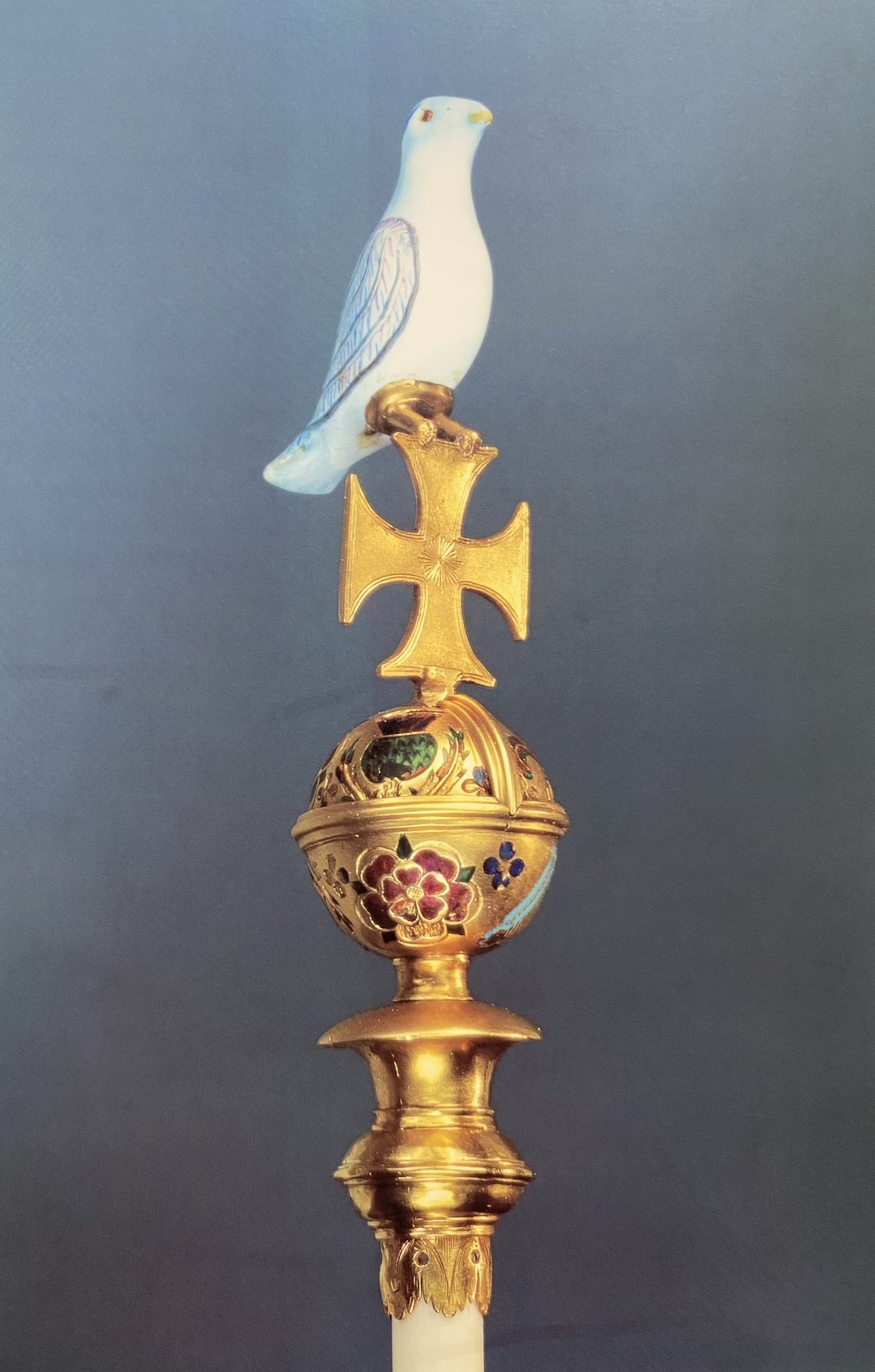 Queen Consort's Ivory Rod with Dove
4.      Queen Consort's Ivory Rod with Dove – an ivory rod, topped by a white enamel dove, the emblem of the Holy Ghost, perches on a cross patte, its wings folded, the monde decorated with fleur de lis and emblems of Britain's kingdoms - thistle, rose, harp. Made in 1685, of gold with ivory rod in 3 sections, for Mary of Modena. Length 950mm / 37.4in. Weight 0.36kg

Queen Mary II's Sceptre with Dove
5.      Queen Mary II's Sceptre with Dove – made for the coronation of Mary and William III, the co-rulers of Britain in 1689, note that this sceptre has a white enamel dove with wings outstretched to indicate a monarch not a consort, perched on a cross and monde. It is set with emerlds, garnets, citrines, quartz, sapphires, and pastes. Length 1004mm / 39.5 in. weight 1.05kg
6.      Sceptre of Scotland - the oldest item in The Honours of Scotland, this was made in 1494 by order of the powerful Pope Alexander VI for James V, as a very real endorsement of his right to rule and a powerful seal of Catholic papal approval. The silver-gilt was lengthened in 1556 with some remodelling.
RINGS
We all adorn our fingers with rings as symbols of love, status or connection, but a monarch's ring denotes more than this. A magnificent royal ring marks the hand of power, emphasising every gesture with splendour, and acts as a symbol of his sacred bond with both nation and God. The ring is placed onto the 4th finger of the right hand, the ring finger. Made for each monarch and consort as their personal property, coronation rings were not traditionally considered part of the Regalia until Queen Victoria, and hence the Crown Jewels has very few examples.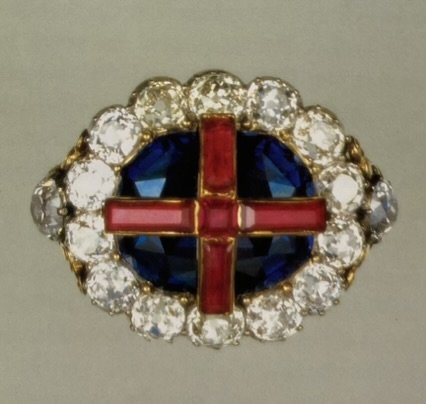 The Sovereign's Ring
1.      The Sovereign's Ring – featuring one large sapphire measuring 15.2 x 12.2 x 7.4mm, with 5 rubies set in gold on top to represent the cross of St George, and 16 diamonds in the cluster surround and along the band, made in the national colours for the coronation of William IV in 1831 by Rundell Bridge & Rundell. Ring measures 28mm / 1.1in 16.9gm.
The Queen Consort's Coronation Ring
2.      The Queen Consort's Coronation Ring - made for the coronation of William IV's consort, Queen Adelaide in 1831 by Rundell Bridge & Rundell. Set with 1 large ruby measuring 12.5 x 9.0 x 5.9mm, 14 diamonds in the cluster surround, and 14 other rubies around the band. Measures 20mm diameter / 0.8in, weighs 9.95 gm.
Queen Victoria's little Coronation Ring on left, with the Coronation Ring of her uncle King William IV on right
3.      Queen Victoria's Coronation Ring – this ring caused acute pain to Queen Victoria, as it was mistakenly made to fit the pinky or little finger, instead of the customary ring or fourth finger by Rundell Bridge & Rundell. At her 1838 coronation, she recorded in her journal that the Archbishop of Canterbury jammed it onto her fourth finger regardless - "I had the greatest difficulty to take it off again, which I at last did with great pain." Made to a similar design as her uncle, King William IV, an octagonal sapphire measuring 14.6 x 13.2 x 8.5mm, with 20 diamonds in the surrounding cluster, and a further 31 on band (1 missing) and 5 rubies in the cross of St George on top of the sapphire. Measures, 20mm 0.8in, weight 8.55g.
4.      Charles II's Coronation Ring – part of the Stuart Jewels, in Edinburgh Castle, this ring features a large ruby engraved with a Christian cross in the centre, surrounded by a cluster of diamonds, in gold.
5.      Queen Mary's Coronation Ring – on display with the Crown Jewels, but actually the personal property of Queen Mary.
BRACELETS
The special bracelets that are used in the coronation ceremony are called armills. The word 'armills' is from the Latin for bracelet "armilla", they were usually worn outside the cuff of the sleeve as part of early Medieval armour. The symbolism of armour in the coronation ceremony links the monarch with that of a military leader splendidly attired in armour like an imperial knight.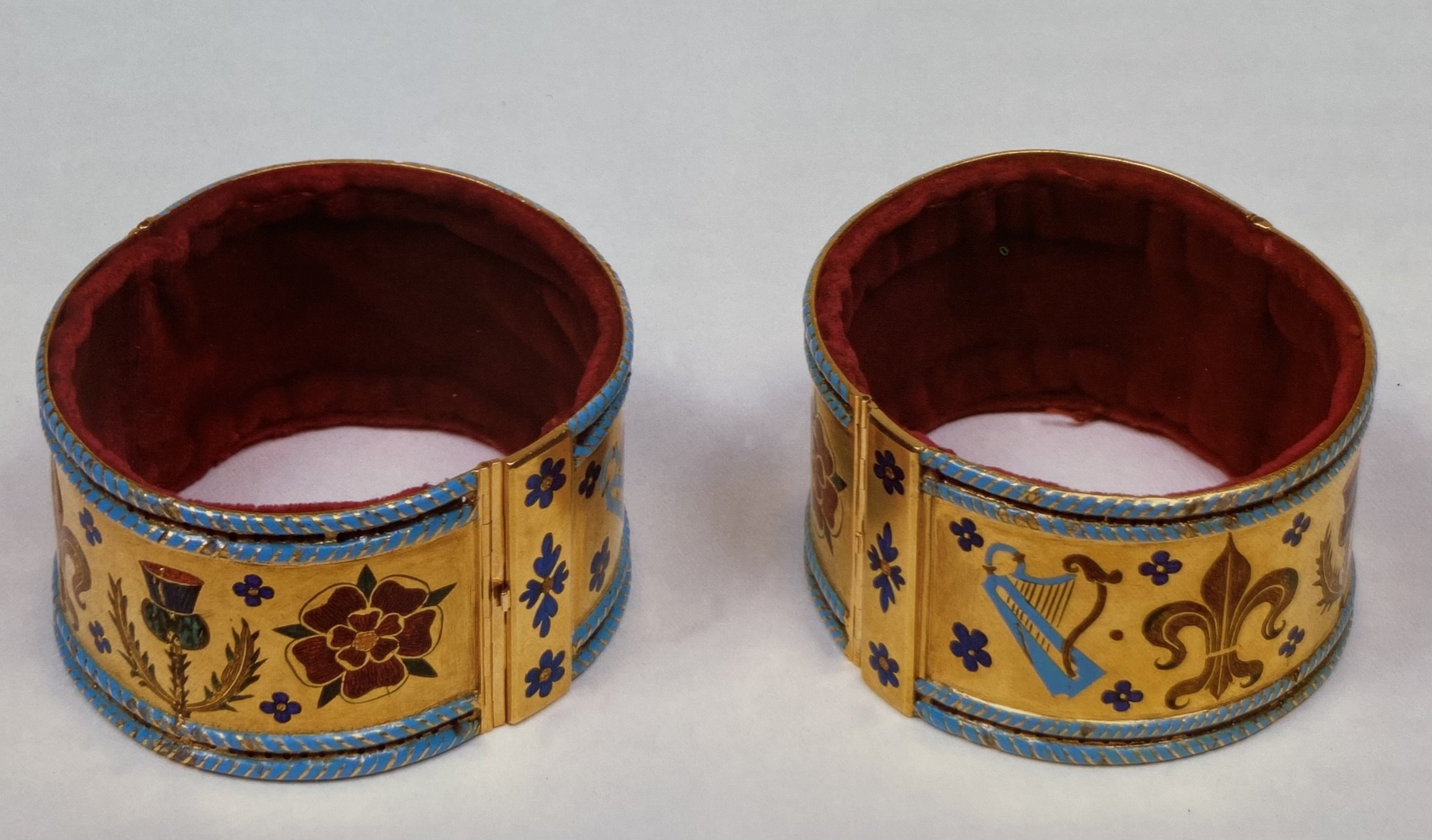 The Sovereign's Armills
1.      The Sovereign's Armills – the pair made in 1661 for the coronation of Charles II, enamelled with the royal fleur de lis and emblems of thistle, harp and rose, the 3 kingdoms of Britain, and with soft crimson velvet lining.
2.      The Armills of Queen Elizabeth II – only brand-new regalia created for Queen Elizabeth II, the gift of the Commonwealth nations. A pair of hinged 22ct gold cuffs, with a simple engraved border, and Tudor rose design clasp, crimson velvet lining.  Made by Garrard & Co 1952-3.
SWORDS
Weapons are symbols of might and power, and a fine sword is an established emblem of leadership, used in the coronation of rulers since ancient times. When the sword is blessed by the church during the coronation ceremony, it becomes a symbol of justice and royalty.  Even after the coronation, a royal sword can represent the monarch when they are not present. The set of three created in 1626 for King Charles I survived the destruction of the Crown Jewels and coronation regalia during the interregnum of Oliver Cromwell.
1.      Sword of Offering – also known as the Jewelled State Sword, made in 1820 specially for coronation of George IV. The steel blade, with gold hilt, gold covered leather scabbard set with gems. Quillons (handles) with lion masks at ends. Blade is covered all over with blued & gilded decorations of the emblems of the Garter & Royal Arms, Britannia, Cross of St George over a Saltire, cypher for GR and sunrays, shamrocks, roses, thistles, acorns & oaks. Studded with 67 large gems – rubies, emeralds, sapphire, turquoise, 1 light yellow diamond and over 2,400 other diamonds, signed Rundell, Bridge & Rundell. Length 965mm / 38.5 in.

Sword of Offering
Sword of Mercy – called "Curtana"
2.      Sword of Mercy – called "Curtana" – with the tip broken off, this is the broadest sword of the others in a set of 3 created for Charles I in 1626. It is made of steel, silver gilt and gilded iron, with an unidentified running wolf mark along the blade, with a hexagonal pommel & crimson velvet covered sheath embroidered in gold thread. Length 965mm / 38in.

3.      Sword of Temporal Justice - part of the set of 3 created for Charles I in 1626, made of steel, silver gilt and gilded iron, with a crimson velvet covered sheath. Length 1143mm / 45in overall.

Sword of Spiritual Justice
4.     Sword of Spiritual Justice - the final sword in the set of 3 created for Charles I in 1626, made of steel, silver gilt and gilded iron with the unidentified running wolf mark engraved along the blade. Length 1168mm / 46 in.
5.     Sword of State – carried in front of the monarch at State occasions such as the Opening of Parliament, the quillons (handles) in are in the shape of a lion & a unicorn, engraved with emblems fleur de lis, a harpy, thistle, and Tudor rose, Royal Arms of William III, a mouth-locket in the shape of two portcullises with spikes forming a zig-zag.  The scabbard is decorated with emblems of countries under Charles II's rule – including Bombay and (briefly) Dunkirk. Made in1687 with later additions, steel struck with letter S & etched with decorations, with a silver gild hilt, wooden velvet covered scabbard decorated with silver-gilt mounts. Length 1193mm / 47 ¾ in.
6.      Irish Sword of State – the blade engraved with harp, and the royal arms of England, Scotland & Ireland, plus France & the lion of Nassau emblem for William III, the Garter arms, and 3 leopards for English royal arms and the lion rampant for Scotland. Cruciform silver gilt hilt made by George Bowers in1660-61, the blade of steel, with velvet scabbard with silver gilt. Length 1270mm / 51 in.
 7. Scottish Sword of State - broken in two when it was smuggled out and hidden from Cromwell's soldiers, the join can still be seen. This is a magnificent Italian sword of silver gilt and steel ordered by Pope Julius II for James IV in 1507, made by Domenico da Sutri. The hilt is ornamented with acanthus leaves, with a circular pommel, arching quillions terminating in acorns, and a red velvet scabbard covered with silver filigree decorations, with a silk and gold thread belt.
HOLY & SACRAMENTAL ITEMS
The most sacred items of alter plate such as the Ampulla, the Coronation Spoon and the items used in holy communion – the solid gold chalice (cup), to drink consecrated wine, and paten (little plate), for the bread - are used in the actual coronation ceremony.  They are laid out on the High Altar of Westminster Abbey or displayed close by.  Many items date back to the coronation of Charles II and were remade either as they were imagined to be or exactly as they were before Cromwell's big Commonwealth meltdown of the original coronation regalia, to recapture the splendour and mystery of medieval coronations down the ages.  All the items described below, except solid gold items 2, 4, 5 & 6, are made of silver gilt: that is, solid silver plated with a layer of gold.
Ampulla
1.      Ampulla – eagle shaped as a symbol of the King of Heaven, this beautiful vessel holds the holy oil to anoint the sovereign at the most sacred moment of the coronation ceremony.  To fill it, the head is unscrewed at the neck. Oil can drip out from a little hole in the beak.  Reimagined from the ancient one melted by Cromwell, it was cast especially for the coronation of Charles I, and has been used ever after. Unmarked, 1661.  Height 206mm / 8 in.

Coronation Spoon
2.      Coronation Spoon – the only item to escape Cromwell's Commonwealth melting pot and is truly ancient, as it was made in the late 1100s. It is carved all over and studded with 4 natural real pearls.   Holy oil from the ampulla is poured into the spoon by the Archbishop of Canterbury and he dips his fingertips into it to anoint the Monarch's head, chest and hands with holy oil during the apex of the coronation ceremony, in a re-enactment of the anointing of King Solomon in the Bible.
3.      Ampulla of Scotland - used at Charles II's Scottish coronation in 1633 – on display in Edinburgh Castle
4.      Chalice & Paten – made in 1661 of solid gold, especially to serve wine and bread to the monarch during holy communion in the coronation ceremony.  Designed in Gothic style with petals on the knop of the stem of the chalice.  Made by Thomas Vyne, chalice 270mm / 10 5/8 in high.  Paten 187mm / 7 3/8 in diameter.
5.      Chalice & Paten – Queen Elizabeth II drank the communion wine from this solid gold chalice in 1953, and took bread from the paten in Item 4.  It is the same Gothic design as item 4, but with diamond-shape protrusions on the knop of the stem spelling ΙΗΣΟΥΣ - Jesus in Greek.  Made around 1662-1688.  Chalice unmarked, 270mm / 10 5/8 in.  Paten marked by Thomas Vyner 178mm / 7 in. diameter.
6.      Paten – an identical but smaller paten to item 5, made of solid gold, 6 inches diameter, 152mm diameter.
7.      Chalice and Paten – the bowl of the chalice sits inside an outer case pierced like a flower calyx, on a hexagonal shape foot and with a paten on a foot, 1661, unmarked.  The engraving shows the Stuart arms and a Royal Duke coronet and the initials DL.  Chalice 204mm / 8 in; paten 136mm / 5 3/8 in. diameter
8.      Chalice and Paten – similar to item 7, and engraved in the same way, but taller and without the pierced calyx casing on the chalice.  Complete with a paten on foot.  Chalice 251mm / 9 7/8 in. diameter.
9.      Pair of standing Patens – the plates sit on feet and are engraved with IHS christogram inside a ring of sun rays.  Robert Smythier 1664, 187mm/ 7 3/8 in. diameter.
10.   Plain circular plate – engraved with the arms of William III, this gilded plate originates from a set of royal dinner plates.  William Denny & John Bache, 1698, 245mm / 9 5/8 in. diameter.
11.   Paten – engraved with the Garter Motto and coat of arms of Queen Anne, made in 1702 by Philip Rollos, 181mm / 7 1/8 in. diameter.
12.   Standing paten – this plate on a foot is engraved with the arms of Queen Anne, and George I's cypher GR added later, made in 1714 by Francis Garthorne.  232mm / 9 1/8 in. diameter.
13.   Standing paten – made to match the paten item 12, and engraved with arms of George II, by Henry Hebert 1736, 232mm / 9 1/8 in. diameter.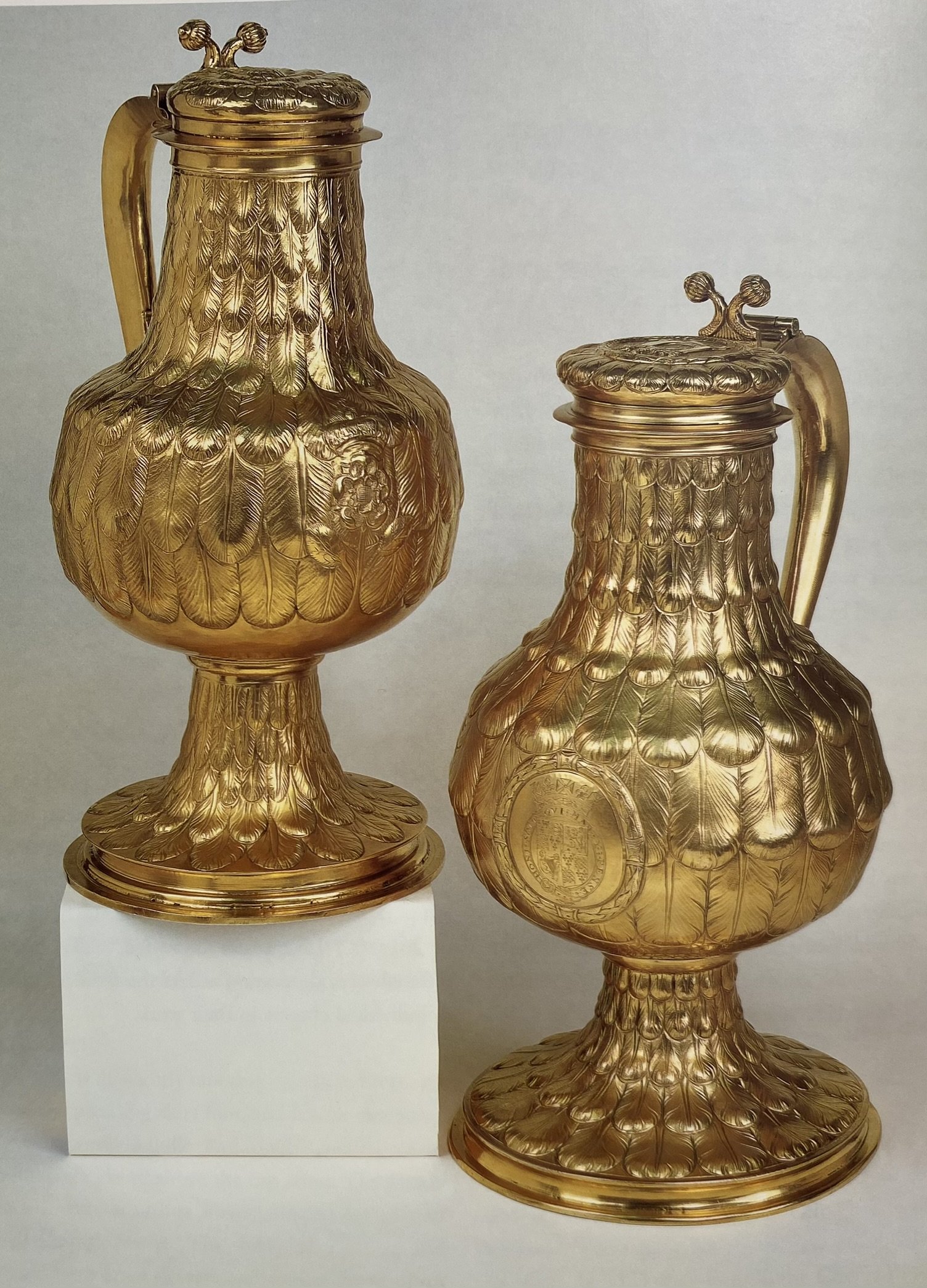 Pair of Feathered Flagons
14.   Pair of Feathered Flagons – a pair of large, communion wine jugs with distinctive shaped bellied bodies.  The feather patterns chased all over may intend to match the decoration of the eagle ampulla.  Also chased with a rose and crown and the initials C R, to symbolise the re-blooming of English monarchy for the coronation of Charles II.  Attributed to James Beacham, 1660, 520mm / 20 ½ in. high.
15.   Pair of Feathered Flagons -  a pair of straight sided wine jugs, chased all over feathers, around a rose with a crown to symbolise the re-blooming of English monarchy at the coronation of Charles II.  Arthur Manwaring, 1660, 375mm / 14 ¾ in. high.
16.   Pair of Feathered Flagons – this pair, along with item 14, are the largest flagons to still exist in England.  They have straight sided bodies covered with chased feathers, and are engraved with the Stuart arms, Garter Motto and Royal Duke's coronet.  Robert Smythier, 1664, 520mm / 20 ½ in. high.
17.   Two Flagons – the bodies of these wine jugs are very elaborately, and similarly, covered in floral repousse work around a rose with a crown and the initials C R, to symbolise the re-blooming of English monarchy at the coronation of Charles II.  Henry Greenway 1661, 406mm / 16 in. high.
18.   Flagon – the William and Mary flagon – is chased with an unusual, entwined zig-zag decoration of W and M initials. St John Hoyte 1691, 425mm / 16 ¾ in. high.
19.   Flagon – this has a plain body engraved with the arms of William III; a cypher A R, for Queen Anne was added later.  Unclear maker's mark, 1660, 330mm / 13 in. high.
20.   Pair of Flagons – these are plain bodied, with protruding spouts and skirt feet, and engraved with the Stuart arms and Royal Duke's coronet.  William Norman, 1664, 355mm / 14 in. high.
21.   Altar dish 1660 – this is full of surprising details.  It was not originally a religious object, as it's decorated with beasts - cow, stag, boar, horse - whose meat was served at banquets – and insects, which is quite rare in silver decoration for this period. The initials AR (Queen Anne) were converted out of the original CR for Charles Rex. Henry Greenway 1660 607mm / 24 in. diameter.
22.   Altar dish – a wide plain dish, centrally engraved with a christogram of IHS within sunrays.  The Stuart arms are engraved at the top of the rim, and DL the royal cypher of the Duke of York at the bottom.  Unidentified maker, 1660. 464mm / 18 ¼ in. diameter.
23.   Last Supper Altar dish – an enormous dish decorated with Christ and his disciples at the table of an elegant room.  Judas on the left has his back to the viewer, his pouch of money shielded from his fellows by his hand.  The border is decorated with 4 scenes from the Gospels.  Henry Greenway, 1664. 946mm / 37 1/4 in. diameter.
24.   Pair of Altar dishes 1661 – both have the crowned rose of Charlese II in the centre, bordered by allegories of four human blessings.  Dish one - Love, Death, Strength and Industry with freshwater fish swimming in the bowl; dish two shows Fortitude, Justice, Faith and Hope with saltwater fish. Attributed to John Cockus c. 1661 603mm / 23 ¼ in. diameter.
25.   Maundy Money Dish – this famous, plain, gilded dish comes out on Maundy Thursday, the day before Good Friday, every year when the Monarch follows Christ's commands to give alms (hence Maundy = Latin mandatum for command).  As many pouches of money as there are years of a Monarch's age are filled and given to selected elderly Christians, chosen for their contribution to their communities. Each gets two pouches, a red one of normal coins, a white one with special silver Maundy Money coins valued at 1p totalling the same as the Monarch age. Engraved with Garter & Motto, and over engraved with arms of William and Mary omitting Scotland, as they were proclaimed joint sovereigns later than the date of engraving.  Maker unidentified, 1660.  654mm / 25 ¾ in. diameter.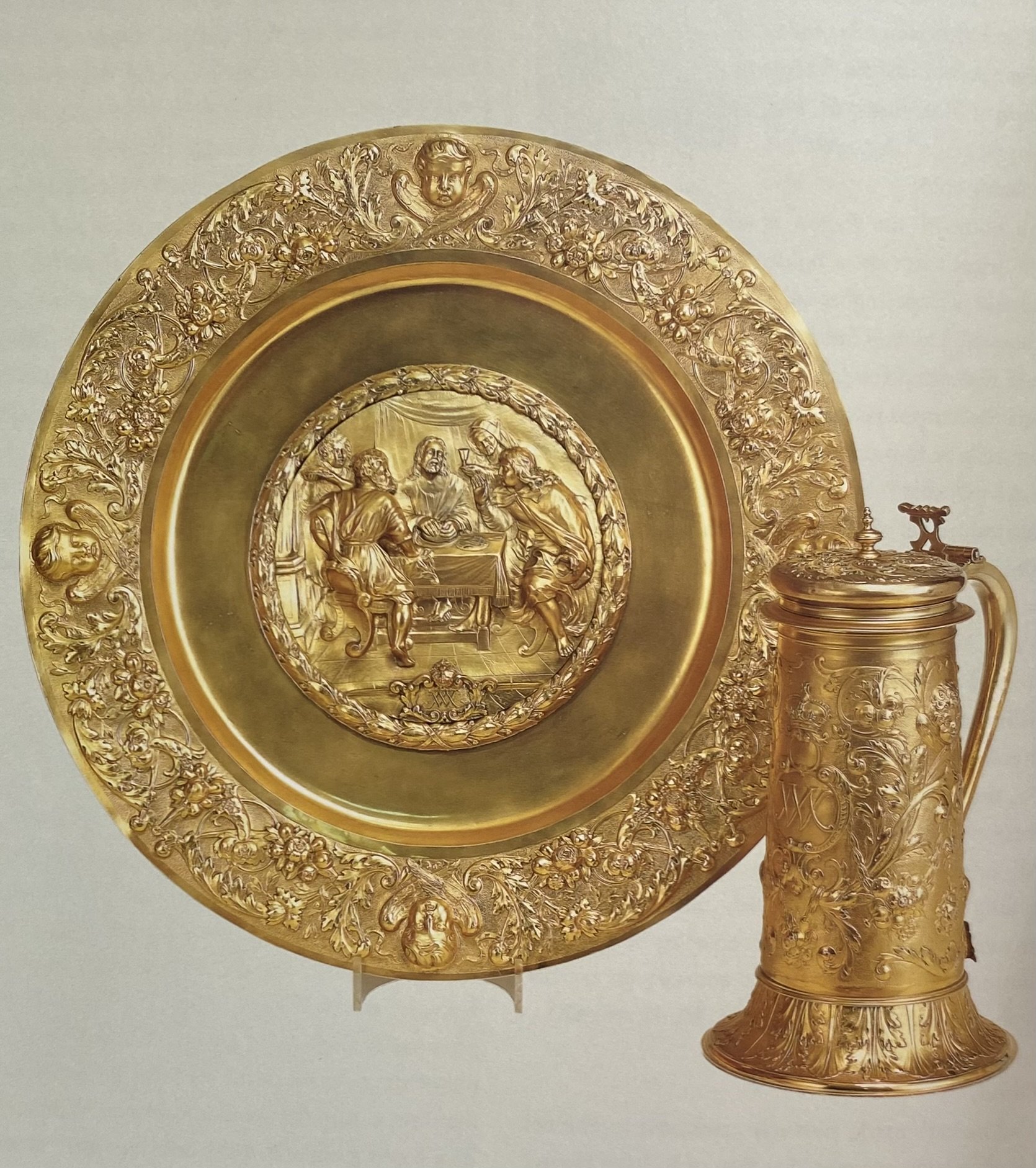 Altar dish with the Supper at Emmaus and the William and Mary flagon
26.   Altar dish 1691 – decorated with the scene of Christ blessing the bread for the disciples at the Supper at Emmaus above the cypher of William & Mary.  The wide outer border is chased with cherub heads, fruit, foliage and floral decorations.  Francis Garthorne 1691, 698mm / 27 ½ in. diameter.
27.   Altar Candle sticks – massive pair of baluster candle sticks almost a metre high, on three feet and covered with flowers and foliage.  These stood at the High Alter of Westminster Abbey for the state funeral of The Queen 19 Sep 2022. Maker IN unidentified, 1661 959mm / 37 ¾ in. high.
28.   Baptismal Font & Basin 1660 – a font is a bowl on a tall stem foot to hold consecrated, or holy, water. This enormous font and the Lily Font are the only two in English silver that exist. It has a cover and is paired with a deep circular dish or 'basin'.  Both decorated with cherubs and foliage, the font is chased with emblems of martyrdom and the lid's finial shows St Philip baptising the Ethiopian eunuch.  Maker RF unidentified 1660, font 952mm / 37 ½ in high; basin 587mm / 23 in. diameter.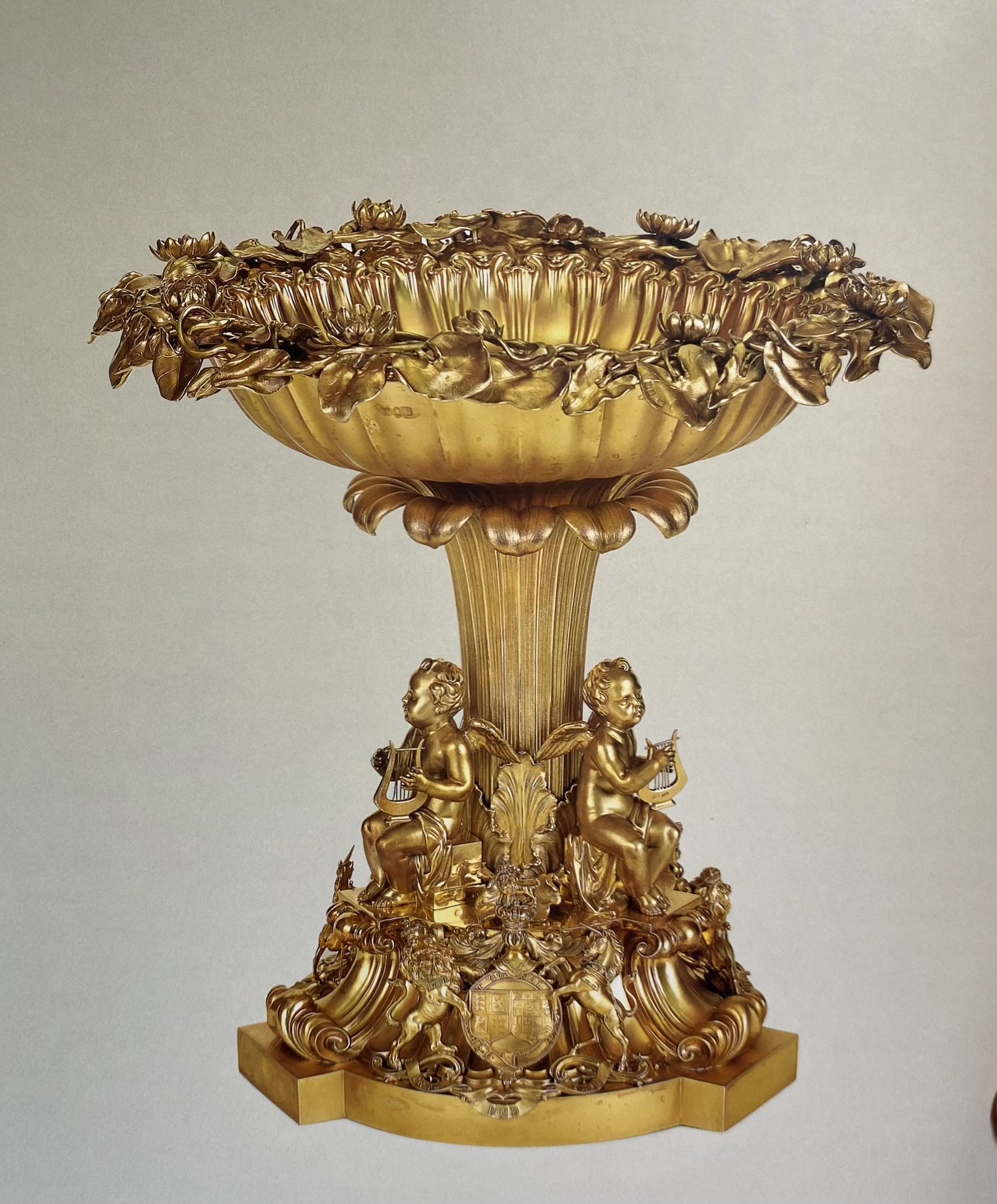 The beautiful Lily Font
29.   The Lily Font – highly romantic with a garland of water lilies around the rim, on a foot decorated with harp playing cupids and the coats-of-arms of Queen Victoria and Prince Albert and their first-born baby, The Princess Royal. Along with the Baptismal font & basin of 1660 this is one of only two that exist in English silver.  Edward, Edward Jnr, John & William Barnard 1840.  432mm / 17in. high.
30.   Christening Basin & Ewer – both the oval basin and ewer are decorated with sprays of laurel and palm fronds with crowns, and engraved with arms of George III, the presentation inscription on the back of the basin shows it was used at the christening of George III in 1738, and Prince Alfred in 1780.  The ewer's handle has a torso finial of Hercules slaying the Hydra.  Unmarked, 1735 ewer 457mm / 18 in high; basin 457mm / 18in long.
CLOTHING & ATTIRE
A monarch needs to dress the part. Special coronation robes, designed for the event, ensure that the sovereign is attired to the most splendid standard possible. The styles have not changed since before the time of Charles II. They're similar to the design of church vestments, but much more magnificent as suits a monarch who must wear the cloth of gold of grand emperors.  During the ceremony, the sovereign undergoes a transformation from proclaimed ruler to one who is anointed by God and has a holy right to rule, so the clothing follows an order of robing: first, the base layer of a simple white tunic just like a humble, pure priest; then the supertunica, the stole, finally the mantle.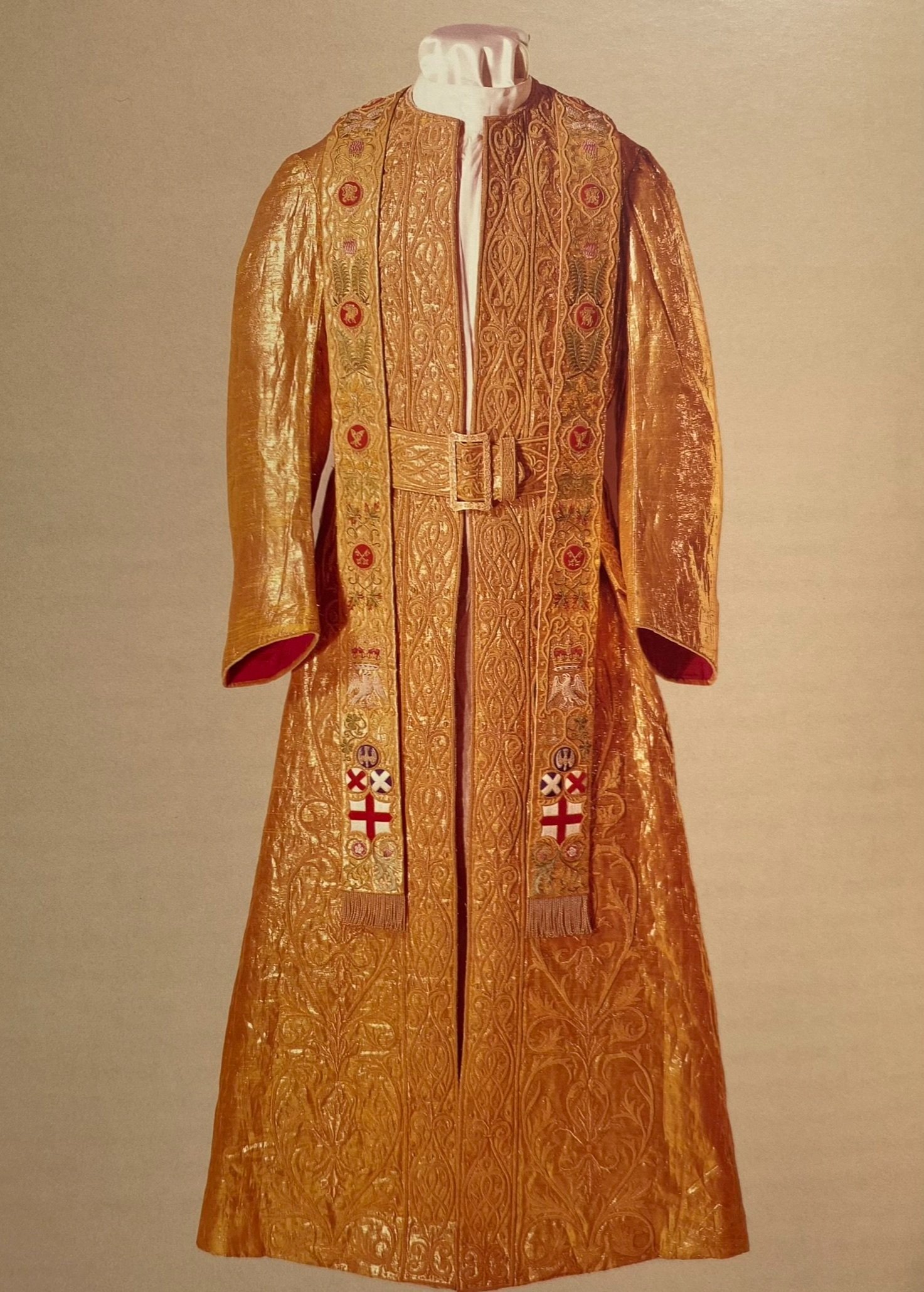 The supertunica
1.      Supertunica – 1911 made for George V by Wilkinson & Son, lined with red silk, worn by George VI & QE, with a belt 'girdle' Full length, long sleeves, simple neckline.
2.      Stole – worn by every ruler, made new for each monarch, this was made for Queen Elizabeth in 1953. It goes around the neck and hangs down at the front each side, embroidered with emblems of crosses of St George, St Andrew and St Patrick; the Dove of Holy Spirit, a crowned eagle, St Peter's keys, the symbols of the four evangelists (Matthew - winged angel, Mark the regal lion of Christ, Luke the calf of Christ's sacrifice, and John the regal eagle of Christ) rose, thistle, leek, shamrock, national plant emblems of Canada, Australia, New Zealand, India & Sri Lanka. Made of silk gold lame, fringed with gold thread, all embroidered in gold thread and coloured silks. 2159 x 7.6mm / 85 x 3 in. length x width. Red silk lining to back.
The magnificent mantle
3.      Mantle – also called a Pallium or Dalmatic Robe, a type of long heavy cape with wide train. This was made in 1821 for George IV from cloth of gold with an intricate damask pattern of roses, thistles, shamrocks, crowns, fleurs de lis and eagles, woven in pink red blue and green. A buckle fastens across the chest with a gold eagle clasp, a heavy gold thread fringe is all around the edges, and with a red silk lining.  Length from front to back 2971mm, 117in.
Cap of Maintenance
4.      Cap of Maintenance – represents Monarch's authority, crimson red with wide ermine trim and large gold thread pommel. This cap is propped up on a rod and carried in the procession before the State Opening of Parliament.
BANQUETING
Tableware fit for Kings and Queens forms a large part of the Crown Jewels for the traditional coronation banquet.  The sight of it glowing in candlelight would have enhanced the splendour and prestige of the Monarch.  Everything is made of silver gilt (silver that has been plated, or gilded, with gold).  There are some notable items which to us today seem very strange - the ornate salt cellars. Salt was worth almost as much as gold, small cakes of it formed money in parts of Africa, and it was highly taxed in Europe. It was reserved only for special guests and people of high status: maybe you've heard the saying someone 'is worth their salt'.  The word "salt" comes from the Latin 'sal'.  Roman soldiers were sometimes paid in salt, their monthly payment was a "salarium" from where we get the word salary.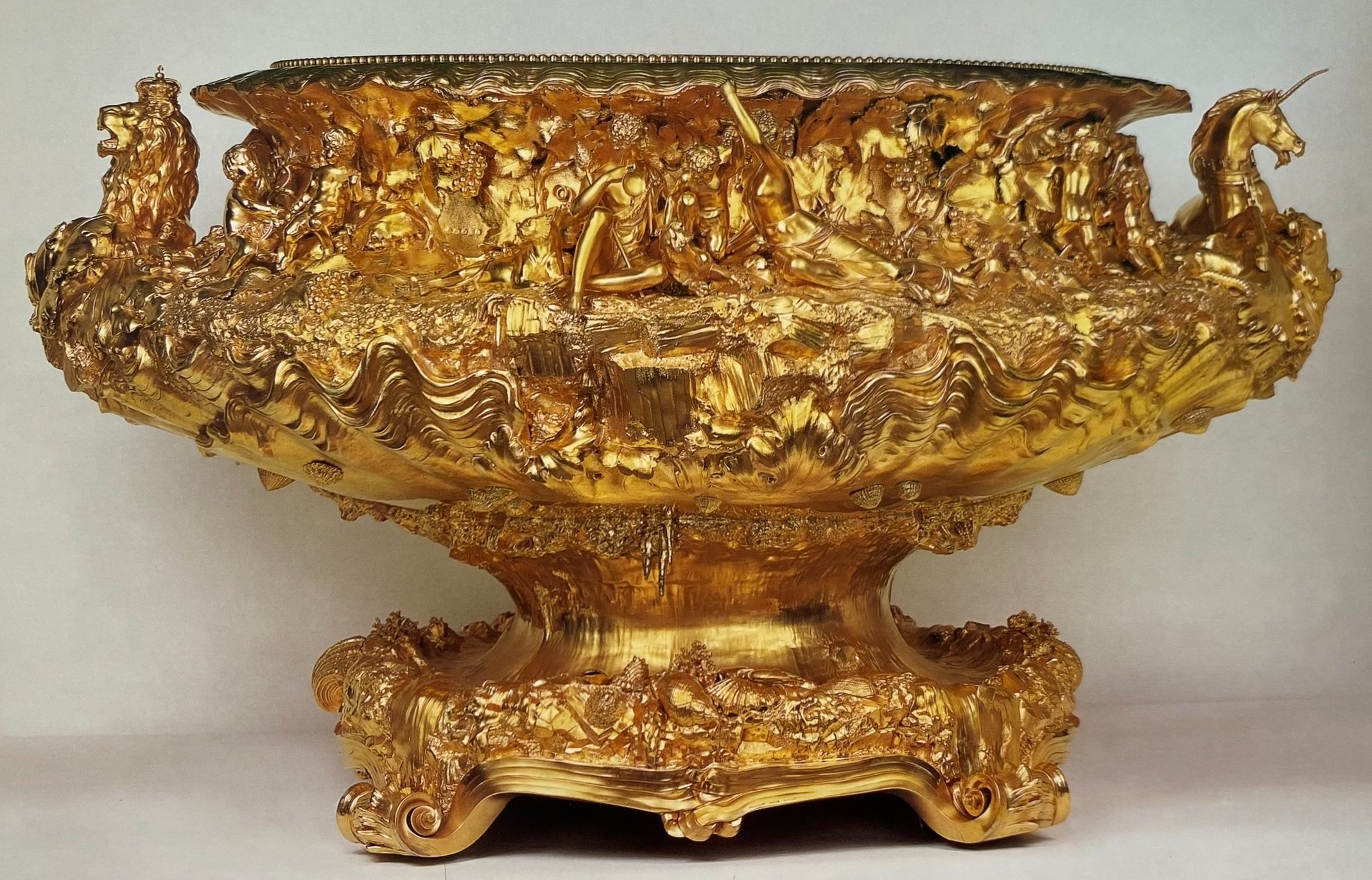 'The Grand Punch Bowl' – possibly the largest and heaviest piece of silver dining ware in the world
1.      Wine Cistern – 'The Grand Punch Bowl' – possibly the largest and heaviest piece of silver dining ware in the world, it weighs almost 250 kg (8000 oz) and is over 1 m wide (40 in).  Originally used to cool wine, subsequently used as a punch bowl with the matching ladle for the evening reception for the christening of the Prince of Wales 1842 at Windsor Castle. The oval bowl is smothered in Bacchanalian figures & creatures rising from a fantastical clamshell, ending with a lion and a unicorn, designed by Thomas Stohard RA, made by John Bridge 1829, 762mm / 30 in high
2.      Ladle for 'The Grand Punch Bowl' – over a meter long to match the bowl, a large, encrusted golden shell on an ivory and silver gilt handle, this ladle is engraved with the arms of the Prince of Wales, Garter Motto and Royal Crown, with a inscription commemorating the Prince of Wales' christening 1842.  Edward Edward Jr Hohn & William Barnard 1841, 1054mm / 41 ½ in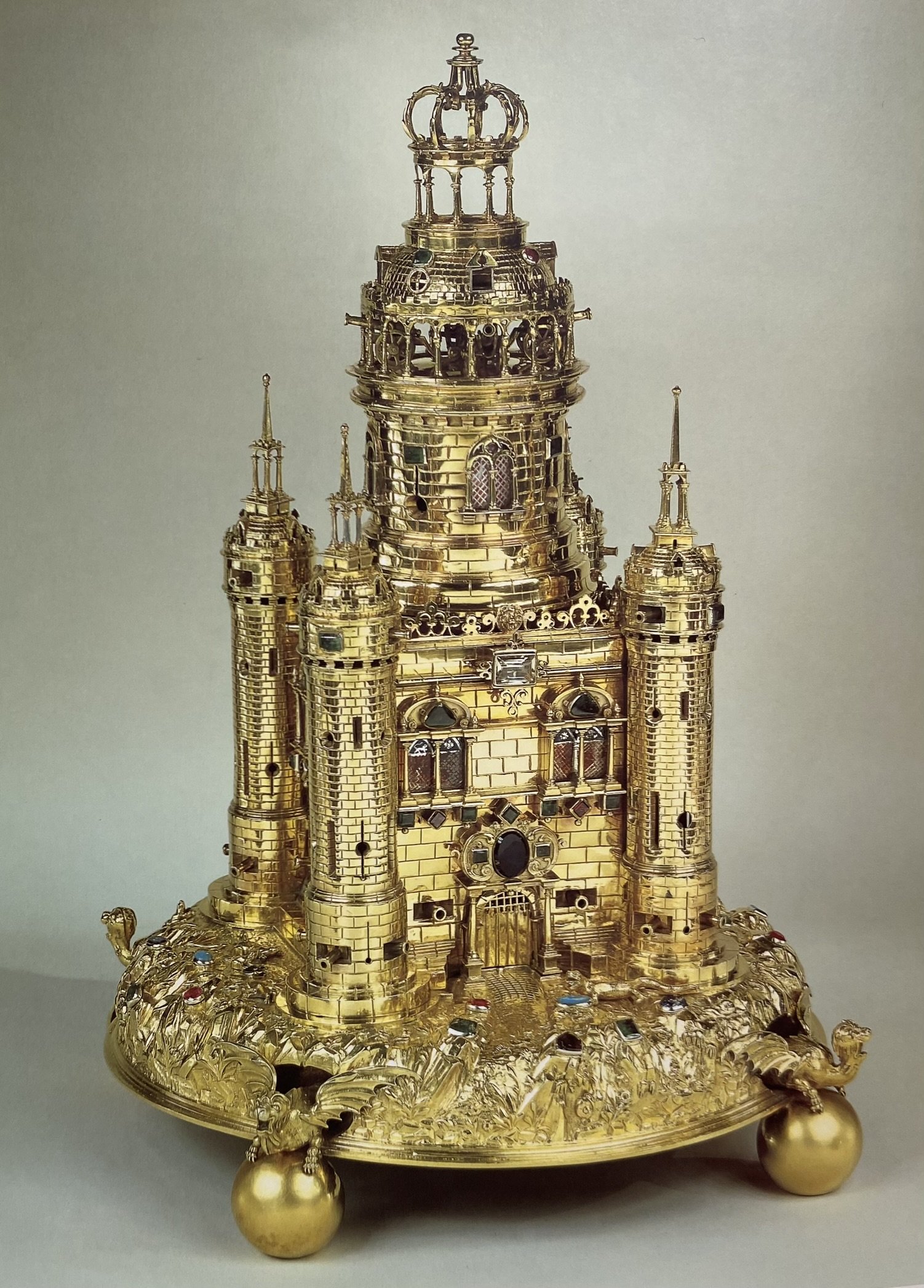 The Exeter Salt
3.      The Salt of State – "Exeter Salt" – a fantastical castle with four turrets, concealing salt wells and drawers for herbs & spices, bejewelled with 73 gems: emeralds, amethysts, rubies, garnets & turquoise. Made of silver gilt in 1630 by Johann Hass of Hamburg, Germany.  Supposed to be a gift from the city of Exeter in rivalry with Plymouth to appease Charles II (Exeter fought with Cromwell against the Monarchy).  457mm/18in high, 302mm/12 in wide.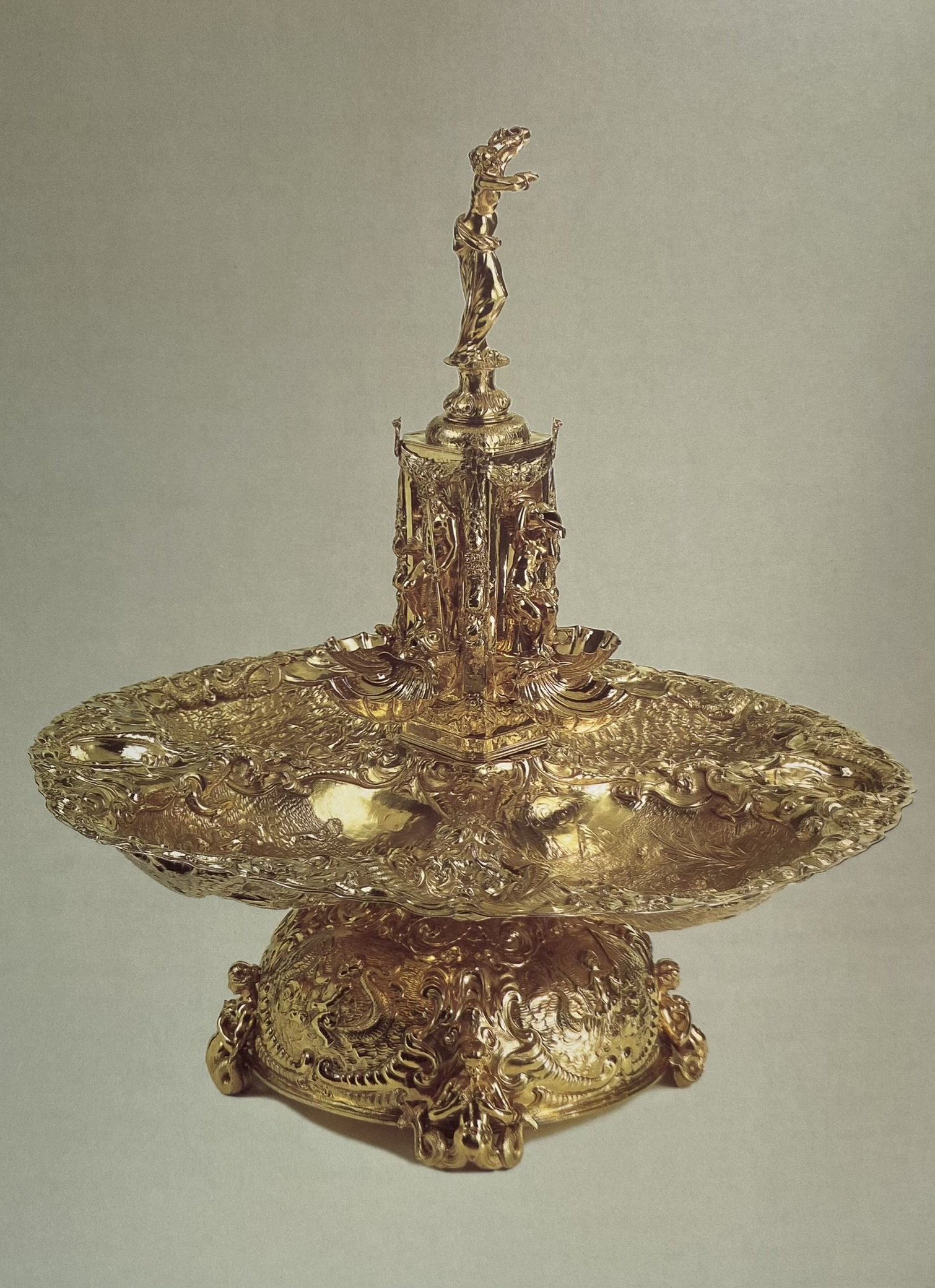 Plymouth Fountain
4.      Plymouth Fountain – Presented by the city of Plymouth as a loyal gift, an enormous silver gilt baroque fountain decorated with Poseidon, dolphins, water nymphs and mermaids, of 4 large & smaller basins, & 4 shell shaped bowls, topped by a finial of a Fury wresting with serpents.  It has concealed copper piping originally for water flow, to enable diners to dip their fingertips at the table. Possibly made by Peter Oehr I of Hamburg, mid C17th, German.  775mm/ 30 ½ inch high, 28 ½ in / 724mm wide.
5.      Queen Elizabeth's Salt - the lavishly decorated cylindrical body with 3 panels depicting the 3 Virtues: Faith, Hope and Fortitude, the dish covered by a dome, decorated in 3 panels with Cleopatra, Ceres, Lucrecia, topped by a finial of a warrior (missing his shield or coat of arms). Attributed to Affabel Partridge, Elizabeth I's London goldsmith, dated 1572. 292mm/11 ½ inches,
6.      St George's Salts – these salts are possibly from a set made for the Garter Knights' banquet in 1661.  There are 11 in total, 2 sets of 4 matched and 3 each different. Seven salts have canopies with tiny, mounted knight finials. All are made in silver gilt with acanthus or floral decorations.  Dated to 1660.   Around 245 – 387mm /9 ½  – 15 ¼ in high.
7.      Twelve Salt Spoons – ordered for the coronation of George IV in 1821, decorated with grape vines, the Royal Crest, the Crown and Garter motto. Made by Crown Jeweller of the time, Philip Rundell, London 1820. 105mm / 4 1/8 in
8.      Pair of Tankards – both lavishly decorated, one with Venus, Cupid, Adonis, and the other with baby Bacchus and scenes of the four seasons, both middle of 17th century, made in Germany. 266mm / 10 ½ in; 280mm / 11in high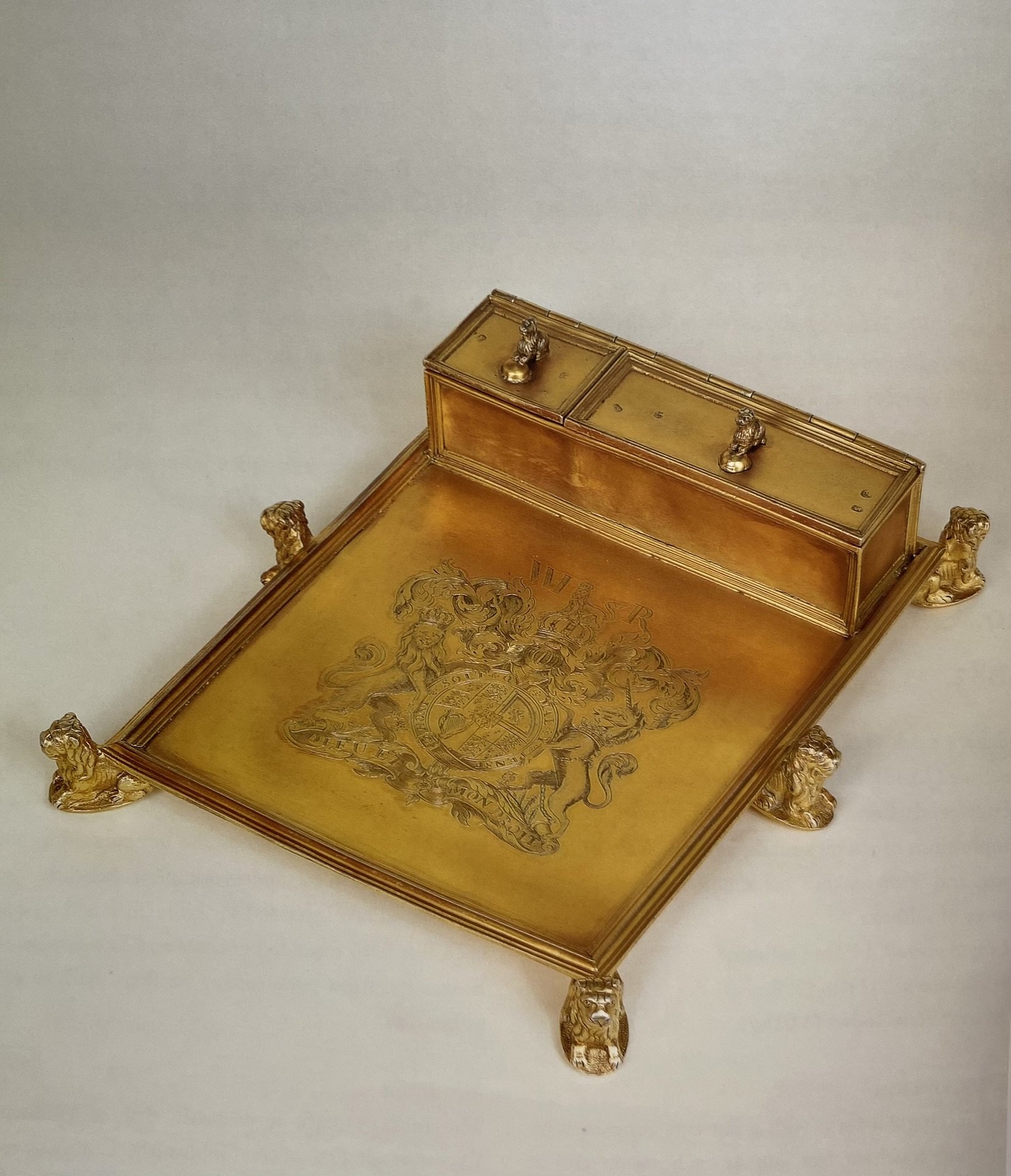 Caddinet
9.      Caddinets – two similar engraved tray-like items for napkins and bread, each with a small box for salt & larger box for knife, fork & spoon.  These have no ceremonial purpose, just for the King & Queen's personal banquet dining, and copied from the French court.  Gilded silver, English. Maker Anthony Nelme 1688, 394mm/15 ½ in x 311mm/ 12 ¼ in; maker's mark WE 1683 368mm/ 14 ½ in x 298mm/11 ¾ in.
10.   Cruets – two similar items for pouring dressings at the dining table, with pear shape bodies, cap covers with a letter V (for vinegar) all that is now left from the domestic set, and with no ceremonial purpose.  Maker Robert Smythier 1682, 120mm / 4 ¾ in 1682; George Garthorne, 1693 120mm / 4 ¾ in.
11.   Covered Ewer – the exact purpose of this covered jug is unknown but it was possibly for pouring wine.  A plain body with cut-card leaf decoration at the base, with a wide harp shape handle and short spout.  Silver gilt, maker George Garthorne 1692, 254mm / 10in. 
WEIRD & WONDERFUL OBJECTS
1.      Stone of Scone – "the Stone of Destiny" – now housed in Edinburgh Castle, this revered block of sandstone quarried near Perth, Scottish Highlands, originally formed in the lower 'Old Red Sandstone', Silurian/Early Devonian geological period approx. 430-400 million years ago. This stone was central to the coronation ceremonies of generations of Scottish monarchs' at the ancient capital near Perth since 5th century, when the first Scots kings ruled over the Picts to forge the nation of Scotland.  The stone was seized in 1296 by Edward I, the Hammerhead of Scotland, who installed it under the Coronation Chair at Westminster Abbey.  In 1950 it was dragged out of the Abbey by 4 Scottish nationalists and hidden. It was eventually recovered, but due to intense feeling, it was offered back to Scotland for safe keeping in 1996.  A rough cross is carved on one side, and two iron rings for carrying either end.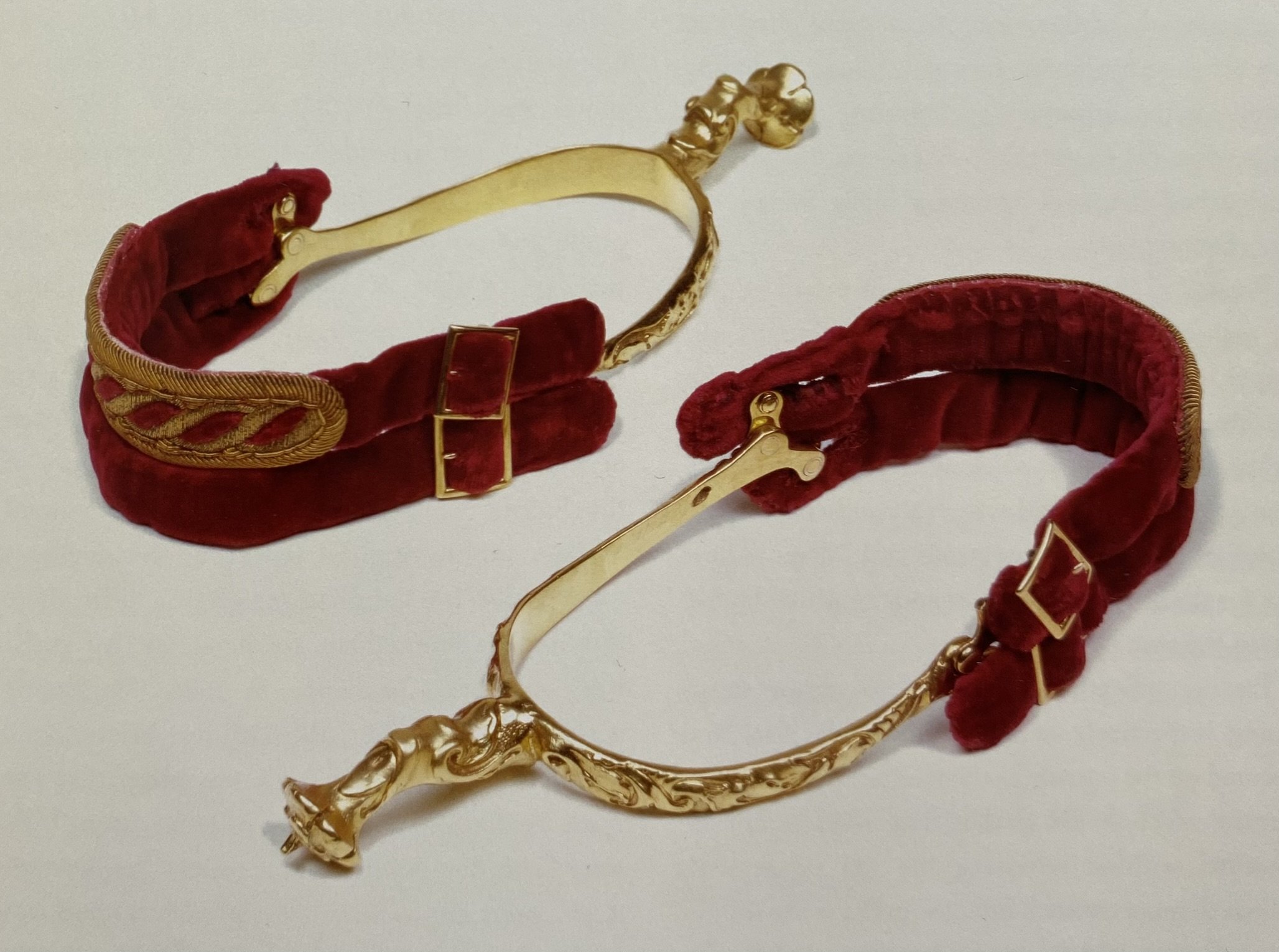 The golden spurs
2.      The Spurs – symbolic of the saintly knighthood of St George, the patron saint of England, gold spurs have been buckled onto, or touched against, the feet of every British King and Queen since the coronation of King Henry III in 1220.  These old fashioned, Crusader-style prick-spurs replaced those melted by Cromwell.  Spurs made 1660-1, buckles & crimson velvet guards embroidered in gold 1821.  150mm / 6 in. long.
3.      St Edward's Staff – this is a highly ornate 'pike', a type of sharp pointed Medieval weapon, but made in solid gold with a dangerous looking pointy steel spike at the bottom, and a monde and cross pattee (a flared cross) above. Unmarked, 1661. 1420mm, 56in. long.

A silver gilt mace of the reign of Charles II
4.      Maces – originally fearsome Medieval battle weapons used to defend a King, these were reversed around 1500 with royal insignia at the topmost end, carried by the Monarch's body-guards, 'Beefeaters' or Serjeants at Arms in Royal processions.  Now, thirteen silver gilt maces exist in Britain (with some others in Commonwealth countries eg Canada), 10 secured in the Jewel House in the Tower of London, 2 lie in the House of Lords & 1 in the Commons to symbolise the Monarch's authority, all constructed from earlier or Reformation era parts & variously decorated.  Dated from 1660 to 1695.  Lengths from 1385 mm / 54 in to 1676 mm / 66 in.  
5.      Scottish Wand – a mysterious item with an unknown purpose, a long silver-gilt embellished wooden rod with a crystal monde & silver gilt cross at the top, and a spherical pommel at the bottom.  Unidentified maker FG, undated, 1000mm / 36 in. long.  
6.      The Lorne Jewels – displayed in Edinburgh Castle, this magnificent necklace of diamonds & pearls with two pendants, one a large pearl & diamond cluster, the lower one a pear shape drop with motto of the Duke of Argyll, and the Galley of Lorne, the emblem of the Lords of Lorne (ancestors of the Argylls). Made in London and given as a gift to Princess Louise, Queen Victoria's daughter, upon her marriage to the Duke of Argyll by the Clan Campbell in 1871, and bequeathed in 1939 to the nation of Scotland in her will.
7.      The St Andrew Jewel of the Order of the Thistle – held in Edinburgh Castle, this is a locket, the front set with an oval chalcedony carved with St Andrew, engraved with the Order's motto on the reverse, hung by a ribbon.  Inside the locket is a portrait of Princess Louise, the wife of 'Bonnie Prince Charlie', Charles Edward Stuart, the Young Pretender.
8.      Great George & Collar of the Order of St George – kept in Edinburgh Castle, this was made for Charles II in 1661.  The gold figure of St George slaying the dragon is enamelled and set with diamonds.  The gold collar was made in 1685 and is an ornate chain of knots and enamelled Tudor roses.
Links:
See the Crown Jewels at the Tower of London